The aluminium market in 2023 has been a rollercoaster ride marked by uncertainty and volatility. From its peak in early 2023 to subsequent declines, aluminium prices have been influenced by a multitude of factors. This article delves into the intricate dynamics that have shaped aluminium price trends in 2023 and the fundamental forces behind its trajectory.
Traders, buyers, and marketers- here's a snapshot of the year that it has been till now for the aluminium industry: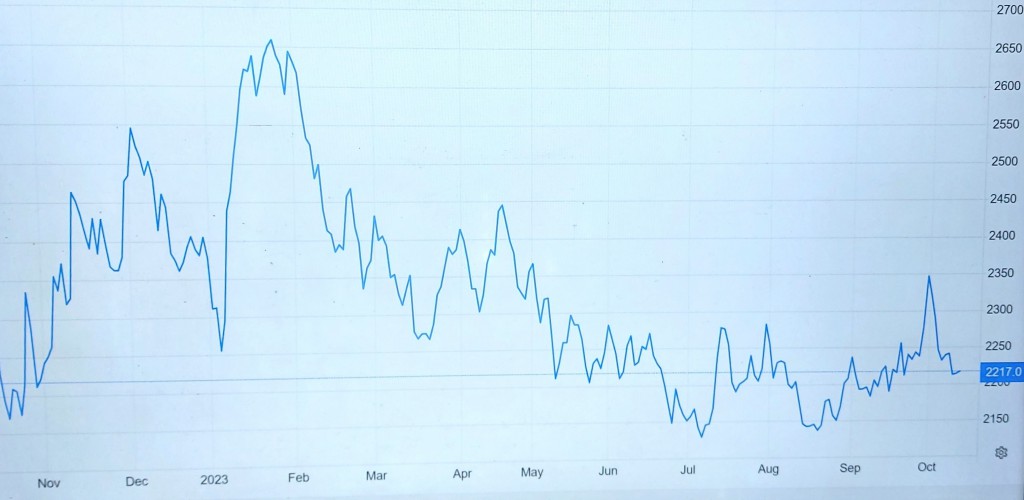 Source: Trading Economics
At the outset of the year, aluminium prices rose, riding on the wave of optimism generated by the easing of COVID restrictions in China. However, this euphoria was short-lived, and prices have since experienced a steep decline, plummeting over 10% since late January.
Factors influencing aluminium prices in 2023
A slow recovery in the global economy has cast a shadow on aluminium demand, particularly in construction, automotive, and manufacturing industries. Lacklustre demand in Europe especially has added to the overall demand-side pressure on aluminium prices, as the prevailing economic uncertainty has suppressed the appetite for aluminium products. The construction sector, which accounts for a large portion of aluminium demand, has faced challenges in particular, exemplified by the bankruptcy of China's Evergrande.
Meanwhile, Chinese aluminium production has continued to rise, adding to the global supply and offsetting any potential price gains. Although supply disruptions occurred in China's Yunnan province, they failed to impact prices significantly. The role of Russian aluminium in the market has also been a topic of debate, with European producers calling for its ban. The presence of Russian-origin aluminium in LME warehouses has raised concerns.
Talking about specific global regions, Asian aluminium markets experienced mixed price trends due to shifts in supply caused by U.S. tariffs on Russian aluminium imports. Prices rose initially but later declined as upstream support waned. European aluminium prices were affected by the region's economic challenges, inflation, and high energy prices in the first quarter. Still, they showed signs of recovery in the second quarter due to increased downstream demand. Meanwhile, North American aluminium prices mirrored European trends, with the impact of U.S. tariffs on Russian imports contributing to higher prices in the second quarter.
Future outlook
Despite the short-term challenges, there is optimism about aluminium's long-term prospects due to its role in clean technologies, including electric vehicles and solar panels, buoyed in particular by Biden's Inflation Reduction Act and climate action in other countries like China and India.
Market analysts anticipate that aluminium prices may have neared their bottom in 2023, with a potential for improvement, as factors such as investments in infrastructure, electric vehicles, and clean energy are expected to drive future aluminium demand. The outlook for aluminium remains promising in the medium to long term, with forecasts indicating a potential price increase.
The journey of aluminium prices in 2023 has been far from predictable. A complex interplay of demand, supply, geopolitical, and regional factors has kept the industry on its toes. While the short-term outlook has been challenging, the long-term prospects for aluminium remain positive, driven by its vital role in clean technologies and infrastructure development. The aluminium market needs to closely monitor global economic conditions, demand patterns, and supply dynamics as it navigates this chaotic landscape.
Like this Article? Subscribe to Our Feed!