World aluminium production is at around 55 million tons, expected to grow at around 6.7% CAGR up to 2020, mainly due to the expected growth in India ~ 11%, China ~ 10%, Middle East ~ 8%, Brazil ~ 7%, Africa ~ 5% and return of growth in US (~ 4%).
World alumina production is around 110 million tons and the bauxite mined is around 350 million tons
Presently China with aluminium metal production of 30 million tons per annum, is the leader, despite less resource of good grade bauxite in the country. China's CAGR during the period 2000 – 2010 was 18%, when its GDP increase was from 5% to almost 14%.
Aluminium Industry in India and China were very similar in capacities till the 1980's. During the last one decade China has increased their capacity nearly 20 times but the capacity in India remains at a meagre level of about 2 million tonnes of aluminium metal (about 1.5% of world production against 48% or more produced by China).
China imports bauxite on an average at US $ 50 – 55 per ton CIF (includes bauxite price + transportation to port + handling charges at port + shipping charges to China port) from various parts of the world, produces aluminium and adds value by manufacturing all capital goods and components required for computers to cars, buses, aeroplanes etc. After self-consumption China exports the finished metal to various countries of the world, thus adding 35 – 50 times value to the bauxite cost.
The indecisiveness and policy issues on part of the concerned authorities had made India practically hand over the possible leadership position to China, in-spite of all required resources like bauxite, coal, manpower, money, market etc available abundantly in this country.
World average per capita consumption of aluminium is ~ 8kg , with 22-25 kg in developed nations, while Indian per capita consumption is just 2.2 kg – one of the lowest in the world. With the country's GDP level expected to grow at a rate of 7 to 8% in the next 5 years, even if India can aim to target and reach the present average consumption by 2020, the industry should grow by 2 to 3 times the current level.
India has reported a trade deficit of US $ 45 billion for the quarter April – July, 2015. Investments in the Aluminium Industry in India can prove important for the development of the Indian economy in terms of foreign exchange earnings as only mineral based industry next to agriculture can employ the rural masses in a prominent way and at the same time help bridge the gap of foreign exchange earnings as the required major resource like bauxite, coal etc. are abundantly available in the country.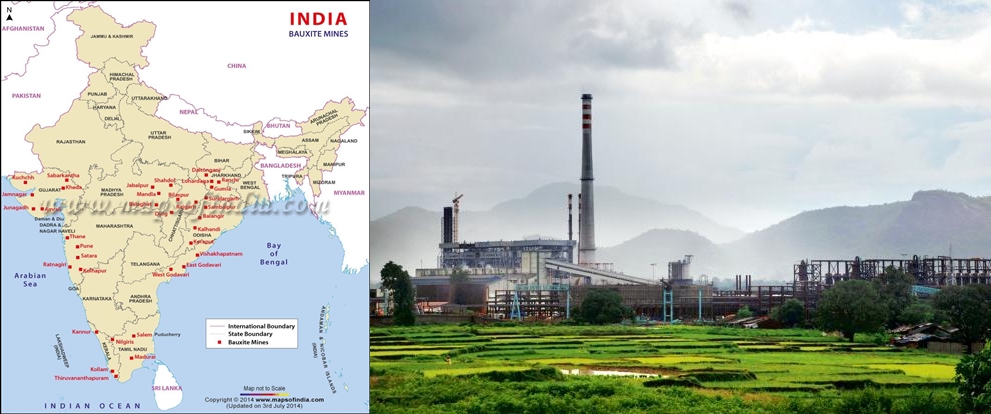 India in general and the eastern states of Andhra Pradesh & Odisha in particular, hold vast potential for development of alumina and aluminium industry because of the availability of rich bauxite deposits (> 75%) & coal ( > 33%), the main inputs for aluminium industry. This will bring good development in the most under developed region of the country by turning mineral and metal potential of the eastern states.
Approximately one ton of aluminium metal is being produced for each square meter of land area used for mining. In order to bring in development in the Agency / Tribal area and provide employment opportunity, mining is an important avenue, since most of the mine workforce (~ 80 – 90%) is recruited locally. Other than that, aluminium is a green metal as it can be recycled infinite number of times without any great loss by consuming only 5% of the energy required for primary production.
Unless the authorities take industry positive steps to give a boost to industry the country may miss the growth opportunities. It should be noted that there are several other low cost countries which are holding reserves of good quality bauxite and also have low cost energy generating possibilities. This will be tremendous loss as the industry contributes extensively in terms of employments, investments & foreign exchange.
Considering the potential and our capability, if the governments (both central & state) can clear all the pending projects and enhance the installed capacity of the aluminium metal to twice the existing capacity both for alumina and aluminium, it would be possible in the next 5 – 7 years or so, to easily achieve the above mentioned targets. Investment to the tune of INR one lakh crores in the bauxite / alumina /aluminium sector is required to realize this target. Most of the capital goods required (up to 80% at least) are through indigenous sources / industries, which can give further fillip to the capital goods industries. This would give on an average employment to about 120 – 150,000 persons for at least 3 years during the construction phase and thereafter regular jobs for at least 30,000 people directly and more than 300,000 people in directly. Most of the employment would go to the locals (wherever they are) and thus elevate their standard of living. Furthermore, investment in downstream industries, both semi-finished and finished goods manufactured indigenously would go a long way in furthering the "Make in India" campaign.
Already, calcined petroleum coke, caustic soda, lime and aluminium fluoride are being produced indigenously and with the improvement in the alumina / aluminium capacities, these industries would further add capacities through Brown / Green Field Projects, with allied power production units, adding to further investments to the tune of Rs 15,000 – 20,000 crores.
The environmental standards being practiced in the industry in India is comparable to the best in the world and with the possible utilization of ash and red mud from the alumina refineries and spent pot lining from the smelter being possible, it might not be long before the new Green field alumina refineries & aluminium smelters in India would act as model for the world aluminium industries.
By providing value addition from ore to finished products, instead of exporting bauxite as ore India can become a powerhouse in aluminium, and reach its slated place in the world aluminium map, if not next only to China. "Aluminium industry is a gold mine" for the development of the country .
What is required to achieve this growth?
Providing conducive atmosphere and faster approvals for the projects launched and to be launched, taking care of all norms & stake holders' interests will facilitate growth for the industry. There has been a lot of misplaced commotion by some of the environmentalists on ecological aspects but with the knowledge available in our country, we can prove to the world that a completely sustainable development of the aluminium industry can be achieved. In the context of aluminium industry, sustainable development involves the minimization of the use of raw material in both alumina and aluminium production, energy conservation at every step starting from bauxite mining to the finished product, ensuring that the waste generated is disposed of in an environmentally friendly way or better still converted into useful products, carrying out efficient recycling of all waste / scrap, enlarging the applications and ensuring adequate safety for personnel.
At the end, to make the concept of "Make in India" a real success and realize the dream, competitiveness would be a key measure. This can be achieved only when we can provide the complete value chain of products and make ourselves competitive by developing manufacturing hubs for production of value added components / products in Aluminium like China, which would then, not only reduce import dependence but also offer export competitively to other markets in the World.
(Mr. H Mahadevan, the Vice President for IBAAS (International Bauxite, Alumina & Aluminium Society (IBAAS)) has about 38 years experience in the various areas of the Aluminium Industry  with a number of key organizations like Anrak Aluminium, Balco, L & T, Aluminium Pechiney & BHP Billiton. The 4th International IBAAS Symposium would be held in Suzhou, China during November 25-27, 2015 with the  theme "The Development and Future of Aluminium Industry in China - Reality and Dream".)
Like this Article? Subscribe to Our Feed!