An eventful 2015 comes to an end. There were challenges galore and opportunities umpteen for the Global Aluminium Industry to grow and innovate! The year was bearish for the entire metal market including aluminium and producers struggled hard to cope-up with the tough markets.  The consumption scene was more or less promising because of consistently growing end-user demand.
Here's a quick recap of the Top stories from the aluminium industry in 2015:
Industry consolidation: To merge or to demerge
Alcoa split into two independent, publicly-traded companies – Upstream Company and Value-Add Company.
BHP Billiton demerged its metal business and created South32.
Vedanta Limited and Cairn India announced merger to consolidate Vedanta Resources' position as India's leading diversified natural resources company.
Sesa Sterlite Limited changed its name to Vedanta Limited to become a uniform global entity.
LME Aluminium price & premium free-fall
LME aluminium price was on an upward growth trend during the beginning of 2015 and it continued to rise till May ($1919 per ton). The same trend was seen in case of SME aluminium price which kept rising till April. Both prices started falling and reached the lowest in November since 2009 with the overflow of the metal (mostly produced in excess quantity by the Chinese smelters) to the market.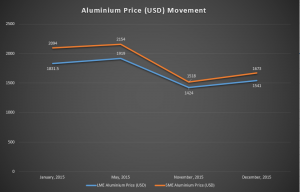 The year also started with a very high premium range of about $500 per ton over LME cash price in US and Europe and around $425 per ton in Asia. It was a rise of $5 per tonne from the last quarter of 2014. However, US aluminium premiums started trending downward since February, the reason for which has been cited as rising imports putting pressure on the demand supply balance in the domestic market and the New LME rules that forced excess inventories out of warehouses.  The spot aluminium premium for UK and Asia too come down due to the fact that premiums tend to equalize globally and a drop in one region encourages a drop in another. Hugely raised aluminium premiums finally had a sharp fall over 2015 to a level of $200 per ton in US and Europe and about $200 per ton in Asia.
New pricing and premium regulations:
LME introduced new rules which now require warehouses to ship out more aluminium than they take in after a period exceeding 50 days.
LME launched Aluminium Premiums to help physical industry observe and hedge the premium portion of the 'all-in' aluminium price.
CME Group introduced a new Aluminium European Premium Duty-Unpaid (Metal Bulletin) futures contract.
Chinese aluminium oversupply:
Over the last one decade, aluminium production has been slowly shifting its base towards China, Russia and Middle East where energy is cheaper and cost of production is low. As a result, number of smelters have burgeoned across China and aluminium produced therein has almost toppled down the world aluminium market.
China accounted for almost 55 percent of global aluminium production this year.
Chinese government lowered power tariffs to spruce up slowing economy further lowering CoP for smelter owners.
Domestic demand for aluminium declined in China leading to increased offloading onto overseas markets.
China's unwrought aluminium exports surged leading to worldwide demand-supply imbalance.
Impact:
While Chinese aluminium products have flooded the markets, the U.S. has went in the opposite direction. It has squeezed its aluminium production from 1.7 million tons in 2014 to 1.6 million in 2015.
The Aluminum Association expressed strong concern about the removal of a long-standing 15 percent tax on primary aluminium exported from China.
During COP 21 Climate Summit Aluminum Association President & CEO Heidi Brock emphasized the need for China to commit to a specific goal to limit and reduce CO2 emissions from aluminium production and shun the unfair trade practice of moving aluminium product out into the global market.
Capacity closure:
With the LME aluminium price and premiums trending continuously downwards through the whole year, majority aluminium producers have either closed down their unprofitable smelters to survive tough conditions, or planning to do so at the earliest.

Century Aluminum permanently closed its Ravenswood, W.V. aluminium smelter.
Alcoa considered plans to curtail remaining Suralco refining capacity and close Poços Smelter in Brazil.
Alcoa announced closure of smelters in Ferndale and Wenatchee in Washington state in November
Alcoa decided not to modernize Massena West smelter and close it permanently.
Aluminium production at Vedanta controlled Balco's Korba facility in India was suspended for good. Vedanta's Lanjigarh refinery in Odisha is working at a quarter of its actual production capacity.

A global supply glut has driven down the LME prices to a six years low in the past year, making survival tough for the cost intensive U.S. domestic aluminium industry. Alcoa's continuous cutback is signalling the crisis faced by once well-off American aluminium industry. According to a Harbor Intelligence report, if prices don't recover, it will be an inevitable closure for most of the U.S. smelting plants by next year.
The silver lining:
Despite extreme price volatility and oversupply situation in the market, the demand factor remains reasonably strong for aluminium. In 2015, Transportation Sector grew creating fresh demand for aluminium components. Aluminium majors started investing heavily in the automotive and aerospace sectors.
Ford has tied up with Alcoa to use its Micromill technology for manufacturing next-generation aluminium alloys.
RUSAL started suppling aluminium alloys to Ford Sollers for engine serial production.
Novelis opened new aluminium automotive heat treatment line in Europe.
Constellium signed contracts to supply high-strength aluminium structural parts for the new lightweight Ford F-150 pickup truck.
Alcoa clinched two multi-year supply contracts with The Boeing Company worth more than $2.5 billion.
Alcoa acquired Germany-based leading provider of titanium and aluminium structural castings – Tital – to strengthen its position in the commercial aerospace sector.
Construction sector is growing with the economic growth in countries like India. And the packaging sector is opening up new demands especially in the can markets as more and more beverage companies opted for aluminium cans.
Few steps taken towards sustainability:
Aluminium scrap recovery and recycling rate increased considerably across the U.S. and Europe during 2015. Aluminium manufacturers riveted their focus more on recycling and value-added metal business while committing to the continued availability of reasonably-priced, clean power as a cornerstone of industrial manufacturing.
A simpler accreditation process for the Packaging Recovery Note (PRN) system is expected be introduced from 2016, according to the Advisory Committee on Packaging (ACP).
COP 21 Paris Climate Change Summit acknowledged importance of sustainable development of the global aluminium industry.
Will 2016 herald aluminium price recovery?
With oversupply leading to a rout in commodity prices, it is unlikely that 2016 will bring any respite to the industry players. According to a recent report by the Australian Department of Industry Innovation and Science, the build-up of stocks is way too high to drive aluminium up the price curve. Global aluminium stocks are estimated to have increased by 12 per cent in 2015 to 6.5 weeks of consumption, as per the report. There have been capacity cuts but only in the high-cost regions, which is expected to be more than offset by the addition of new low-cost capacity in China.
However, the price decline is expected be less than in 2015, as demand will be supported by increased use of aluminium in various end-user sectors. This will open up newer avenues of growth for aluminium makers, which in turn will help them earn decent ROI in their respective re-modelled downstream business verticals.
Like this Article? Subscribe to Our Feed!