China plays a dominant role in world aluminium. Any aluminium industry player would know the importance of China aluminium prices in international business. In fact, pricing movements of the raw materials (that go into the process of aluminium making) and downstream products in China major markets are referred to with great inquisitiveness by almost all ex-China participants because some way or the other they are linked to China for various business dealings. Shanghai Metals Market (SMM) Price serves as a major reference point for all aluminium and related material prices. AlCircle's latest offering AlToolz provides SMM prices for bauxite, alumina, aluminium ingot, alloy ingot, aluminium scrap, and more.
What are SMM Aluminium Prices?
SMM Price (Aluminium) is spot price (the current market price at which an asset is bought or sold for immediate payment and delivery) for aluminium, its ore, alumina, alloys, scrap, and other raw materials. SMM conducts price surveys on mining companies, smelters, traders, and processers downstream, and develops SMM prices according to these surveys and Shanghai Futures Exchange (SHFE) price data.
The prices are confirmed by both buyers and sellers, and verified by neutral third party of credibility. In this way, SMM provides market-based guide prices and assessed prices for China's aluminium markets.
What does AlToolz offer under SMM Aluminium Prices?
AlToolz being a comprehensive data-based service package covers a wide range of SMM aluminium prices, namely:
Bauxite Prices
Spot Alumina
Other Raw Material Prices

Aluminium Fluoride (AF-0&AF-1)
Prebaked Anode (TY-1) Northwest China
Prebaked Anode (TY-1) Southwest China
Cryolite (CH-0&CH-1)
Prebaked Anode (TY-1) Central China
Prebaked Anode (TY-1) East China

A00 Aluminium Ingot: One can also view Aluminium Ingot Price Graph of one month
Aluminium Alloys (A380 & A356)
Under SMM Aluminium Scrap Prices, AlToolz provides data on:
Tense(East China)Recycling Rate
Clean Tapping Aluminum Wire(East China, Central China, South China)
Aluminum Scrap-Litho Plates(East China, South China)
Baled UBC(East China)
Aluminum Skimmings(East China)Recycling Rate
Aluminum Extrusion (East China-Zhejiang)6063 Old
Durable Scrap Aluminum
There are many other categories for which AlToolz presents spot prices directly from SMM curated aluminium scrap data.
SMM Prices of Bauxite
AlToolz SMM Bauxite Prices refer to the Ex-mine price (tax included, excluding freight charges) in local market and the average CIF price at port (Longkou port, Yantai port, Rizhao port, Yingkou port, Qingdao port, etc.)
SMM Prices of Alumina 
AlToolz SMM Alumina prices at port refer to spot prices at China ports (including tax), which weighted average price for alumina of east, south, north, and central China based on alumina output.
SMM A00 Aluminium Ingot Spot Prices on Other Markets
AlToolz SMM A00 Aluminium prices refer to transaction prices for aluminium of various regions which consist of traded prices for major domestically-produced aluminium ingot in local market.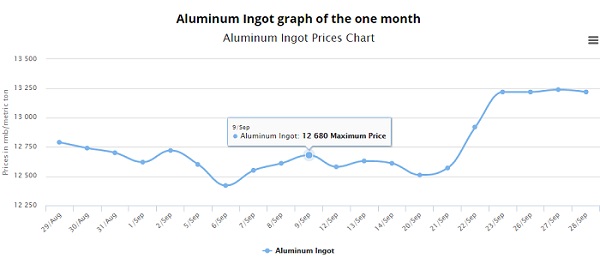 SMM Prices of Aluminium Supplementary Materials Prices 
AlToolz SMM Aluminium Supplementary Materials prices refer to the mainstream ex-works price (tax included)/price to the factory (tax included) in local market.
SMM Prices of Aluminium Alloys 
AlToolz SMM Aluminium Alloy prices refer to the mainstream traded prices (ADC12, ZLD102, ZLD104, A356, A380) in local market
SMM Scrap and Secondary Aluminium Prices
SMM publishes 29 Scrap Aluminium related prices, including Baled UBC, Clean Tapping Aluminium Wire, Tense and Prices for other secondary aluminium products.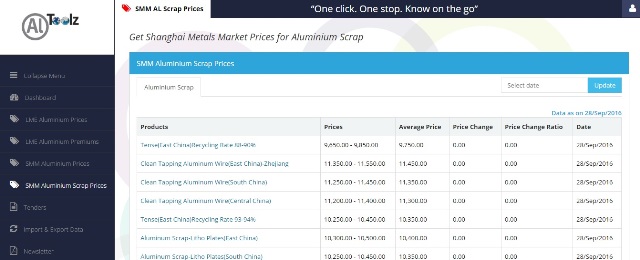 In China, SMM Scrap Aluminium Prices has been recognized as benchmark contract prices, which involves over 60 per cent of participants in the local market, including mining companies, smelters, traders, distributors, downstream and end users. AlToolz being the Business Decision Enabler provides one-stop access to all these scrap aluminium prices.
Besides, it also presents a wide range of other trade data and LME aluminium prices based on which business decisions can be made at a faster speed and with more precision.
To know more about AlToolz and its services and to subscribe the same, check AlToolz Subscription.
Like this Article? Subscribe to Our Feed!