Architecture defines a generation, and contemporary architecture is all about blending aesthetics with functionality, creating a space that is reflective of one's persona, and upholding sustainability. Based on these three mantras many trends have come and gone, but one trend that stayed and grew with time is the use of aluminium composite panels for cladding. For buildings today, particularly the commercial ones, facade has become almost an integral feature. Whether for constructing a new building with a distinctive style or for giving an old building a face-lift nothing comes as useful and cost-effective as aluminium composite panels.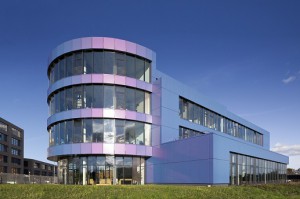 Unfortunately, this versatile building material has recently earned a bad name following a spate of fire incidents that took place in different parts of the world, the most recent being the Grenfell Tower fire in London. All these incidents were, in some way, linked to the use of aluminium composite panels (with flammable polyethylene cores) in cladding, by people from various sectors. While everyone including the fire safety professionals insisted for complete removal of aluminium cladding from the buildings or at least implementing a moratorium on aluminium composite construction, aluminium rolled product companies and ACP manufacturers continuously kept trying to put their best logic forward to prove their offerings guilt-free. What everyone missed out in the middle of the entire clamour was the non-compliance practised by even the best housing companies in the world.
But let us leave that issue for the compliance authorities to analyse while we concentrate on the benefits that ACPs offer as a futuristic building material.
1. Price advantage: No other cladding material can beat aluminium composite panels in cost terms. They are the most economical cladding material available in the market right now.
2. Design flexibility: Aluminium cladding comes in various shapes- from standard squares and rectangles to the unique curves and circles. Further, it can be shaped as per project specification using sophisticated CNC technology. Aluminium composite panel surface also allows for a wide-range of value addition in terms of colour-coating, polishing, texturing and sublimation printing.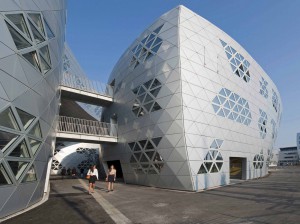 3. Lightweight advantage: ACPs being lightweight can be easily transported, lifted to any height, and installed without having to worry about serious casualties at site. The panels are ideal for portable construction at any part of the world.
4. Durability: Like any other advanced aluminium flat rolled product, ACPs are rigid, durable and reasonably strong, and hence preferred by architects to prolong the building life.
5. Added advantages: ACPs have good heat insulation and sound reduction properties. These features make it ideal for creating spaces for modern living.
6. Low-cost maintenance: Superior stain and weather resistant properties make aluminium cladding low-maintenance and hence, worth investing in.
7. Recyclability: Choosing aluminium cladding is choosing sustainability. Aluminium is 100% recyclable and does not lose any of its quality in the down-gauging process. So, the metal from the cladding can be re-melted at any point of time and the process saves a significant amount of energy. This makes it possible to obtain the U.S. Green Building Council's Leadership in Energy and Environmental Design (LEED) certification for modern "green" buildings.
Aluminium cladding and fire safety:
Now coming to the most crucial part, let's face it that non-combustibility does not come as a default feature with all the varieties of aluminium composite panels. The sandwich panels behave differently to fire depending on the foam used, thickness of the metal, the coating, etc., and it is on the builder or the occupant to choose between the different sandwich panel types, depending on the budget and requirements. A study by the Association of British Insurers and the Building Research Establishment in the UK highlighted that "sandwich panels do not start a fire on their own, and where these systems have been implicated in fire spread, the fire has often started in high risk areas such as cooking areas, subsequently spreading as a result of poor fire risk management, prevention and containment measures."
However, there are some technicalities that decide the combustibility of aluminium composite panels:
Design of the cavity between the panel and the exterior wall of a building if not optimized with precision may lead to secondary fire caused due to upward convection.
Use of polyethylene core as the outermost layer of the panel may often increase the possibility of fire, but then it depends on the application and the method of installation.
A mineral-filled core, like those used by the top aluminium composite panel manufacturers in the world, has been found to offer reasonable fire-safety assurance.
It is always advisable that the civic bodies quality-check these features before allowing a particular variety of aluminium composite panels in the market. Builders and consumers too should have a clear understanding of the important concepts like 'fire rating', 'fire retardant', and 'fire resistant' before zeroing on a product.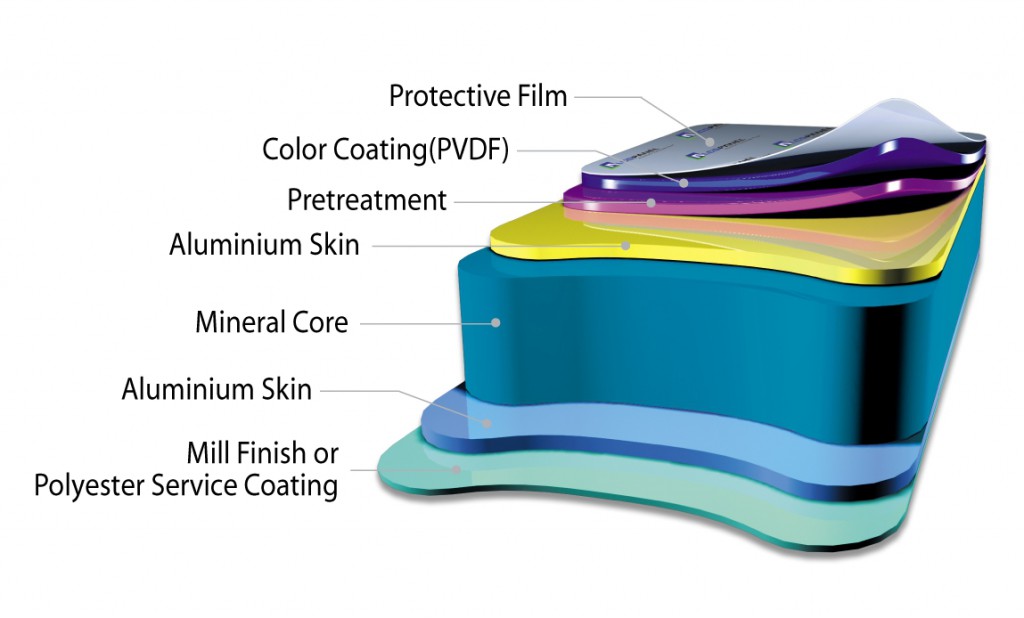 Source: alcopanel.en.ecplaza.net
ACPs are the order of the future:
It is almost certain now that aluminium composite panels will rule the building and construction sector for the coming few decades. A half-an-hour walk through any of the world's biggest cities would only reaffirm that trend.  Globally, the ACP market is growing at a CAGR of 6.27% over 2017-2021, the latest Research and Markets report shows. With the number of residential and commercial building increasing and infrastructural projects getting sanctioned, the demand for aluminium composite panels will grow even more significantly.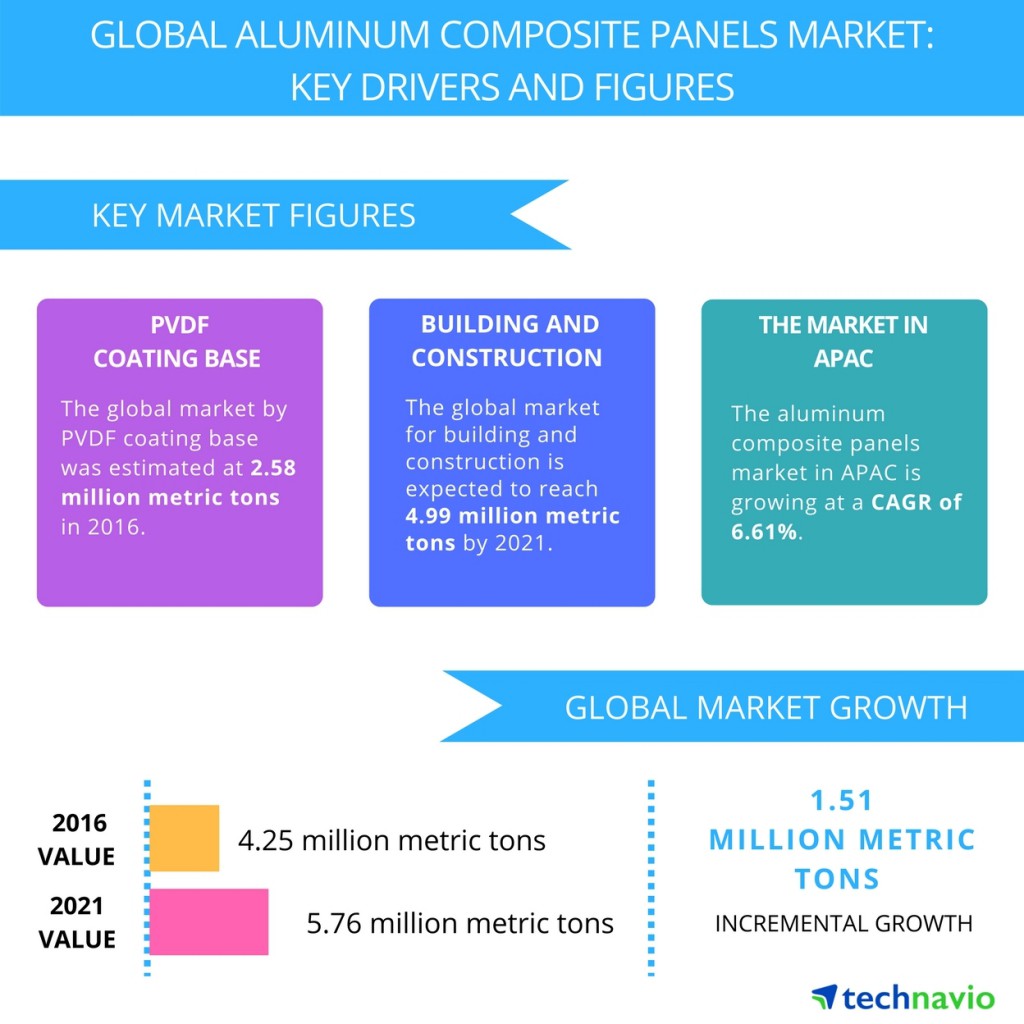 Infographic courtesy: Technavio
So, it is pointless to refrain from using this cost-effective, versatile cladding material. Instead, vendors should invest more in developing new technologies and stay up-to-date with the global fire-safety standards that could improve the product line, because one thing is clear- only those aluminium composite panel brands are going to thrive that will offer the best fire-safety cladding solutions to the end users. Nothing more, nothing less.
Like this Article? Subscribe to Our Feed!