The aluminium industry is one of the most commercially important industries in the world and one of the most flourishing ones, too. The global aluminium demand will increase by almost 40% by 2030, and the aluminium sector will need to produce an additional 33.3 million tonnes to meet demand growth in all industrial sectors – from 86.2 million tonnes in 2020 to119.5 million tonnes in 2030, according to a report revealed by International Aluminium Institute (IAI). With the advent of Industry 4.0 technologies, such as Artificial Intelligence (AI), Internet of Things (IoT), Big Data Analytics, etc., the entire aluminium industry has embarked on a transformation journey.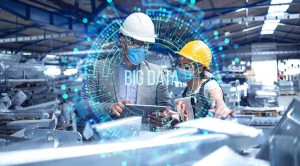 Big data analytics is a vital concept of Industry 4.0; it is already positively impacting the maintenance and operational processes of the manufacturing segment of the aluminium industry.
Big Data- in a nutshell
Big Data focuses on extracting and analyzing information from large, complex data sets. It includes search, sharing, transfer, visualization, updating, data sourcing and information privacy. It uses user behaviour, predictive, and other advanced data analytics based on real-time data. Let us delve deeper into how Big Data analytics is changing the aluminium manufacturing industry landscape.
Application of 'Big Data Analytics' in the aluminium industry
Visualization of data: With the help of data analytics, several troves of data generated at different stages of the aluminium value chain can be visualized. This data can be related to anything- from mining and logistical concerns to product manufacturing and inventory needs- and any number of things in between. By visualizing data, manufacturers can gain valuable insights and make informed decisions.
Supply chain optimization: Analyzing the data of the entire supply chain, which includes raw material sourcing, transportation, and inventory management, can allow manufacturers to optimise their supply chain operations in a better way. This will improve efficiency, reduce costs, and enhance customer satisfaction.
Reducing downtime: Big Data analytics can be used to monitor any form of equipment and predict when it might fail. This can be helpful in the prevention of any unplanned downtime that may occur, which can save manufacturers a lot of money and time.
Efficient quality control: It can also help aluminium metal and product manufacturers in every aspect of analyzing quality data to identify potential problems before they lead to defects. This can improve the quality of the end products and reduce waste.
How is big data analytics changing the aluminium manufacturing landscape?
Many aluminium industry players are reaping the benefits of big data analytics. It has helped them by:
Better decision making: Accurate and specific insights are offered by data analytics to the manufacturers in the aluminium industry. This can allow them to make better decisions when it comes to marketing, pricing, production and many similar kinds of areas.
Staying ahead of competition: Companies like Rio Tinto and Norsk Hydro have already embraced this technology in their operations and manufacturing processes. This helps them improve their operations, develop new products, and understand the market, allowing them to gain a competitive edge.
Helping with industry's digitalization: According to research done by Think IQ (a pioneer of Digital Manufacturing Transformation SaaS)," 88% of "innovative manufacturers" in the aluminium industry have started or completed digital transformation with the help of these analytics. They are seeing more significant revenue, growth, and profit margin. It is quite significant that this has a big role to play in the world of the aluminium industry.
The aluminium industry's transformation is constantly propelled by technologies belonging to Industry 4.0, which includes big data analytics. It has also turned out to be one of the most powerful tools that have revolutionized various facets of manufacturing in the aluminium sector. From optimizing supply chains and reducing downtime to efficient quality control and enabling quicker decision-making, it has completely reshaped the landscape of aluminium manufacturing. Increasingly, companies are utilizing big data analytics to enhance their competitiveness, innovation, and digitalization. Digital solutions have propelled the amazing rise of the aluminium industry. Check out AL Circle's exclusive report on the "Digital Transformation in the Aluminium Industry" and learn how technology has enabled the industry to thrive.
Like this Article? Subscribe to Our Feed!