Aluminium, as a metal has been with mankind for about 200 years, it is one of the most modern metals in the world. Despite the fact, today, more aluminium is produced than all other nonferrous metals put together. The total annual world production of primary aluminium was about 58 million metric tonnes in 2015, and in addition around 25 million tonnes was recycled. About one billion tonnes of aluminium has been produced by now and interestingly, around 75% of all the aluminium ever produced is still in use because of the white metal's infinite recyclability and durability.
The aluminium smelting process has undergone many changes since the introduction of Bayer process which makes alumina from bauxite and Hall-Héroult process in 1886 which produces molten aluminium by electrolytic reduction of alumina dissolved in an electrolyte consisting primarily of cryolite.
The major technological change that took place was in preparation of the carbon anode from petroleum coke and pitch, i.e. from Søderberg process to "prebaked" process. In Soderberg process the anode is not baked in a separate plant. A Soderberg cell has only one big anode in the pot. The green paste is added from the upper part of this container and the green anode is baked during its movement from the top to the bottom of the container. Unfortunately, the quality of the baked Soderberg anode is lower than the quality of the prebaked anode, hence the Soderberg cells have lower current efficiency and a higher pot voltage needed for baking the anode.
The Søderberg process has almost been universally replaced by the "prebake" system, in which the anode is prepared outside the cell, baked in a so-called anode baking furnace at another location to control emissions and hence more environment friendly.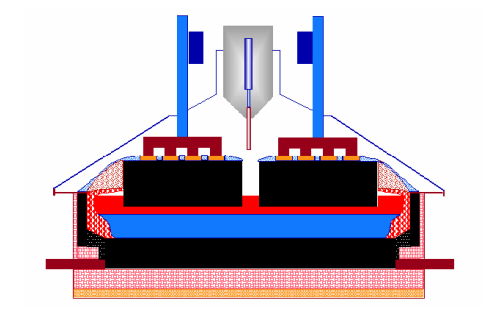 There have been continuous research and experiments to find innovative aluminium smelting technology that is energy intensive, sustainable and more productive. The driving factor to develop new processes for aluminium smelting revolves around the three major demands:
Electrical-energy reduction
Capital-cost reduction of the reactor per ton of production
Environmental considerations
Two of the well-known alternative aluminium smelting technologies on which a number of patents have been produced till date are:
Electrolysis cells with Inert Anodes
Carbothermic Production of Aluminium
Though, experiments are continuing on these methods, the commercial viability of the methods have still not been established.
Efforts can be made to make the current aluminium electrolysis process more greenhouse-friendly. The current focus is on how to lower specific energy consumption, eliminate the occurrence of anode effects and reduce the net carbon anode consumption by cutting down the number of processing stages. However, regardless of the methodology, all alternative processes would be more or less energy intensive as all the processes involve high temperatures. Issues with reactor life and construction materials do not disappear easily.
Within the process limitations, a number of major players are constantly working towards energy savings, cost cutting and optimum productivity. The process starts from sourcing the raw materials and energy and involves the smelting operations, the use of right kind of equipment and recycling of all possible waste products. Smelters use advanced melting technology and high-efficiency energy-saving equipment that include, among others, pot-control system, online pot switch on-off device and fume treatment plants and casting equipment to enhance productivity and save energy.
Third party organizations are being formed to work hand in hand with aluminium producers to set sustainability standard for aluminium. Aluminum Stewardship Initiative(ASI) is a multi-stakeholder, international organization to develop an independent, third-party certification program for the aluminum value chain. Aluminium majors like Alcoa, Rio Tinto and Rusal are becoming the stakeholders in the organizations in order to become a responsible producer while driving business at the same time.
Alcoa aluminium holds Cradle to Cradle Bronze Certification for their primary aluminium and the company is working towards developing the standards across the entire supply chain and intend to get their products  ASI certified by 2017.
Rio Tinto has recently introduced Renewal, world's first third party certified low CO2 footprint primary Aluminium. Assured CO2e content of the primary aluminium is 4tCO2e/tAl or below. Through this the company aims to support their customers' supply chain CO2 footprint reduction. All Rio facilities will be ASI certified from 2017.
RUSAL recently announced the launch of the first RA-550 pot at the Sayanogorsk aluminium smelter. The key benefit of the new pots is their energy efficiency. A RA-550 cell consumes around 12 kW*h/kg of aluminium, which is 10-15% less than previous pot technology. One pot IS expected to produce 4.21 tonnes of aluminium per day, which is about twice as much as ITS CURRENT output.
Hindalco in India has been using the latest CHALIECO GAMI, technology of higher amperage pots for increasing productivity and better energy efficiency.
Considering the present volatility in the commodity market and constantly low LME aluminium and premium prices, well-planned cost efficiencies are a must for the primary aluminium producers to survive profitably. So, energy efficiency is not only environmentally desirable but also a driver for business. Low CO2 footprint primary aluminium is the need of the hour along with proper reutilization of waste materials, and aluminium producers, equipment suppliers and technology providers together would play a significant role in realizing it.
Like this Article? Subscribe to Our Feed!