The Gulf countries have been trying to divert the economy from its sole dependence on oil and natural gas sector to key non-oil industries. In this effort, the aluminium industry grew immensely in last one decade.  Five major aluminium smelters contribute to produces about 5.2 million tons of primary aluminium in the GCC region. They are:
Emirates Global Aluminium(EGA) which is a collaboration of (Dubal – Dubai Aluminium and Emal – Emirates Aluminium, United Arab Emirates
Alba – Aluminium Bahrain, Bahrain
Qatalum – Qatar Aluminium, Qatar
Sohar aluminium, Oman
Maa'den Aluminium, Saudi Arabia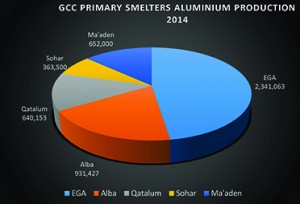 Aluminium industry has become one of the major growth drivers in the GCC region. The demand for aluminium products is growing steadily in the Middle East because of their positive contribution to modern living. With an already established economy because of the growth of the oil and natural gas industry the country is experiencing a steady growth in aluminium consumption like any developing countries.
Middle East, especially GCC, is responsible for generation of huge amount of aluminium wastes each year. Notably, UAE alone consumes 500 million beverage cans and out of which only 5% is recycled while the rest goes to scrap dealers or landfills. Most of the scrap generated in the GCC countries gets exported to a number of countries globally. Middle East has a very strong aluminium industry that could benefit a lot from aluminium recycling initiatives as the region generates huge factory and old scraps. Recycling of aluminium is a long-term viable option for the region as it reduces the need for raw materials and use of valuable fuels.
Most of the aluminium scrap is exported to various countries. The aluminium recycling market is still at a developing stage in the Middle East as the downstream industry is mostly dependent on primary aluminium for the their applications. Middle East has a nominal f 20 per cent aluminium recycling rate, which includes smelter re-melting, scrap generation, and secondary re-melting. The Kingdom of Saudi Arabia and the United Arab Emirates (UAE) are the two major aluminium recycling hubs in the Middle East.
Saudi Arabia houses Ma'aden Aluminium (MA), a joint venture between the Saudi Arabian Mining Company (Ma'aden) and Alcoa that started operations in 2014. The US$10.8b project is expected to be the largest and most efficient integrated aluminium complex in the world once it is completed. MA's can recycling unit in its facility has capacity to recycle 120,000 mtpy of used beverage can. However, other than that there is no notable aluminium recycling plant in any other countries.
Notably, in 2015, Saudi Arabia exported 211,045 tons of aluminium scrap to countries like India, Pakistan, South Korea, Brazil and USA.  UAE exported 178,827 tons of aluminium scrap in 2015 and is estimated to export 192,887 tons of scrap in 2016.
Consumers, industries, and demolition sites across the country generate thousands of tonnes of metal scrap. Scrap sourcing is a critical factor in the KSA. Thus, location plays a very important role in taking advantage of the imbalanced domestic scrap supply-demand within the KSA.
According to Venkatesan Subramanian, Vice President and Global Leader, Metals & Minerals Practice, Frost & Sullivan, "The Aluminium Scrap market in the GCC is estimated to grow at a Compound Annual Growth Rate (CAGR) of 10.6 per cent (2010-2017)."
According to a Frost & Sullivan estimate in 2014, the total Aluminium Scrap generated in the Middle East would reach 500,000 tons (MT) by 2015, of which 360,000 MT is set to be exported.
According to the research consultant, the key challenges in the Middle East Aluminium Scrap Market, which result in low rate of recycling, are lack of development of downstream industry, higher rate of End of Life scrap export (approximately 80 per cent), increase in premium of liquid metals and ingots, falling LME aluminium prices and lack of dross waste disposal technology.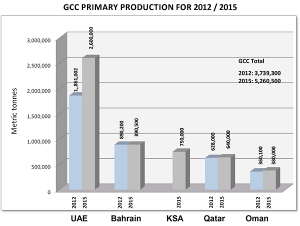 With the recent development of new smelters and expansions of existing smelters, we expect more secondary re-melting opportunities and plants to come up in the region. Many downstream participants in the GCC are following the European best practice model of increasing their scrap re-melting capacities, reducing significant energy costs, and becoming operationally efficient to cut input costs and cut carbon footprint.
The Middle Eastern aluminium scrap industry has a long way to go in order to replicate the success story of the steel scrap recycling market.  Such huge amount of aluminium scrap getting exported every year from two of the major aluminium producing countries in the Middle East calls for the growth of an equally strong Secondary aluminium industry. If all the five major aluminium producers start shifting their focus to value added application and recycling of factory and old scraps and build a strong closed-loop recycling system in the line of Novelis and Alcoa and Constellium, the region can boast a strong aluminium recycling industry along with the primary aluminium sector.
Like this Article? Subscribe to Our Feed!