The global aluminium market performed bearish in the first quarter of 2019, and aluminium price was under pressure at the London Metal Exchange (LME). This was mostly driven by the following factors: the negative impact from US-China trade wars and tensions, lifting of sanctions on Rusal by the US government, macro uncertainty and the saturation of a huge global deficit for aluminium that was expected in 2018 among others.
LME average price trends:
LME aluminium prices started their downward trend from the end of 2018 and then continued till now. The average LME price for the first three months of 2019 stood at US$ 1859 per tonne, down 14% from the first three months of 2018 when average price stood at US$ 2159 per tonne.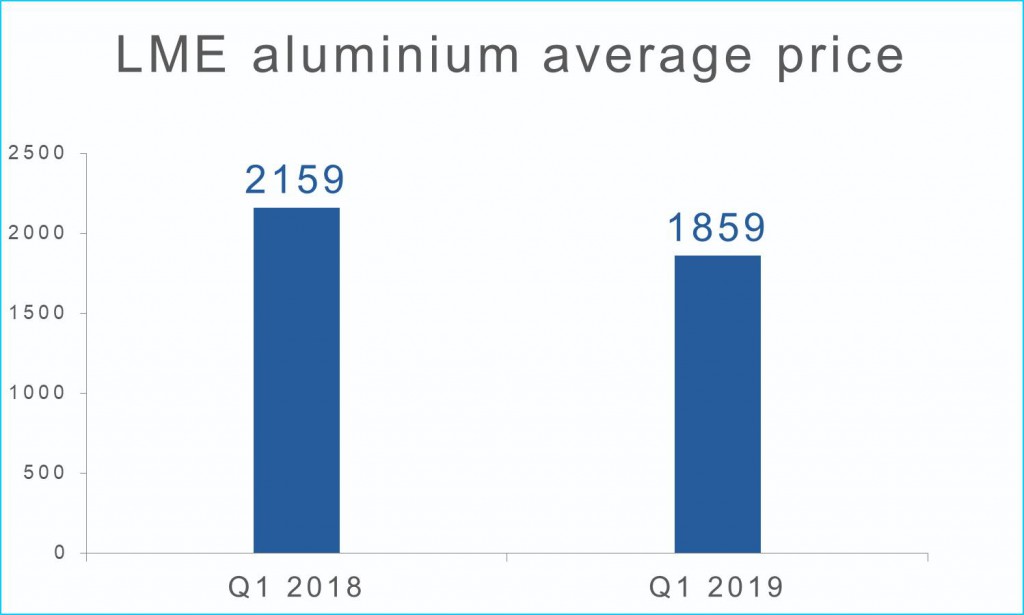 Aluminium price at the London Metals Exchange (LME) declined in January on news that Hydro aims to bring Alunorte alumina refinery back to full capacity within weeks or months. LME aluminium price closed the lowest in Q1 at US$ 1775.5 per tonne on January 14, 2019. But the aluminium price at LME started correcting in late March after Norsk Hydro reported that its aluminium smelters were hit by a cyber-attack. This was before it jumped to a three-month high of US$1946 per tonne, and ended at US$1940 per tonne.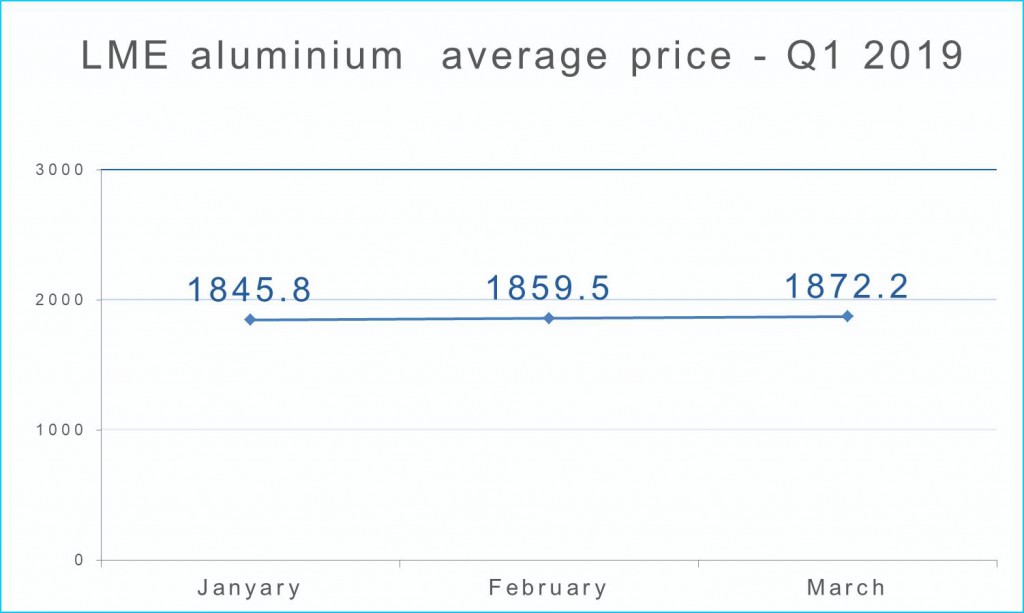 Though we see a slow upward movement month-on-month, the downward trend in aluminium price is likely to continue in the second quarter of 2019, despite the possibility of a potential agreement between China and the US. Reopening of smelters in China and Rusal coming back to supply are other reasons which are indicating an abundant supply. As the embargo on Alunorte production has been lifted, there would be minimum cost support from alumina in the coming months.
Global aluminium production:
World aluminium production outside of China stood at 6.86 million tonnes in the first quarter of 2019, down 1.3% quarter-on-quarter. Production of primary aluminium in China in the first quarter of 2019 amounted to 8.63 million tonnes. This was down 1.2% year-on-year due to the sluggish market and capacity cuts.
The production volume outside of China is likely to grow in the second quarter of 2019 on capacity restarts in the US and aluminium capacity increase in the Middle East and Russia, Rusal estimated.
Aluminium consumption:
Aluminium consumption outside of China amounted to 7.38 million tonnes in Q1 2019, 1.5% YoY increased. Consumption in Europe slightly increased to 2.36 million tonnes. Demand in North America rose 1.5% to 1.73 million tonnes. In China, aluminium demand grew 1.5% to 8.48 million tonnes in the said period. Russia's Rusal expects total demand growth in 2019 to be around 3% YoY.
Inventories situation:
Aluminium inventories at LME warehouses stood at 1,074 thousand tonnes in the first quarter of 2019, a drop of 200 thousand tonnes. LME live warrants remain at the level of 723 thousand tonnes.
According to Shanghai Metals Market statistics, social inventories primary aluminium across eight consumption areas in China, including SHFE warrants, came in at 1.678 million tonnes as of Thursday March 28. Tax cuts and consumption recovery bolstered purchases and lowered primary aluminium inventories.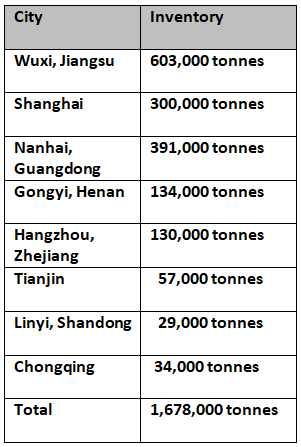 Aluminium price at the LME continued the weak trend in April and May. LME aluminium on May 2 hit the lowest in more than two years at US$ 1775.50 per tonne.
Aluminium price has already witnessed a drop after the US reached a deal to lift tariffs on imports of aluminium and steel from Canada and Mexico. Lifting of embargo on Hydro Alunorte alumina refinery and removal of tariffs on Canada and Mexico will determine how aluminium prices perform in the coming quarter. Albras aluminium plant is expected to produce at full capacity during the second half of 2019. Rusal is likely to supplying aluminium to its customer since the US lifted sanctions. All these factors are expected to have an impact on the aluminium prices in the coming months.
Like this Article? Subscribe to Our Feed!