The dynamics of the aluminium scrap market are in a state of transition due to the stricter scrap import policies by China, which used to be one of top markets for aluminium scraps. The trade war initiated by Trump's 10% tariff on all imported aluminium imposed in March 2018 led many countries to slap retaliatory tariffs on the U.S. It is evident that the countries with higher aluminium consumption would be the countries that would also be largest generator of scrap. Since packaging and automotive scraps are recycled and recovered faster, the U.S. remains the top exporters of scrap with more aluminium consumption in these sectors. The U.S. is followed by Germany and the U.K.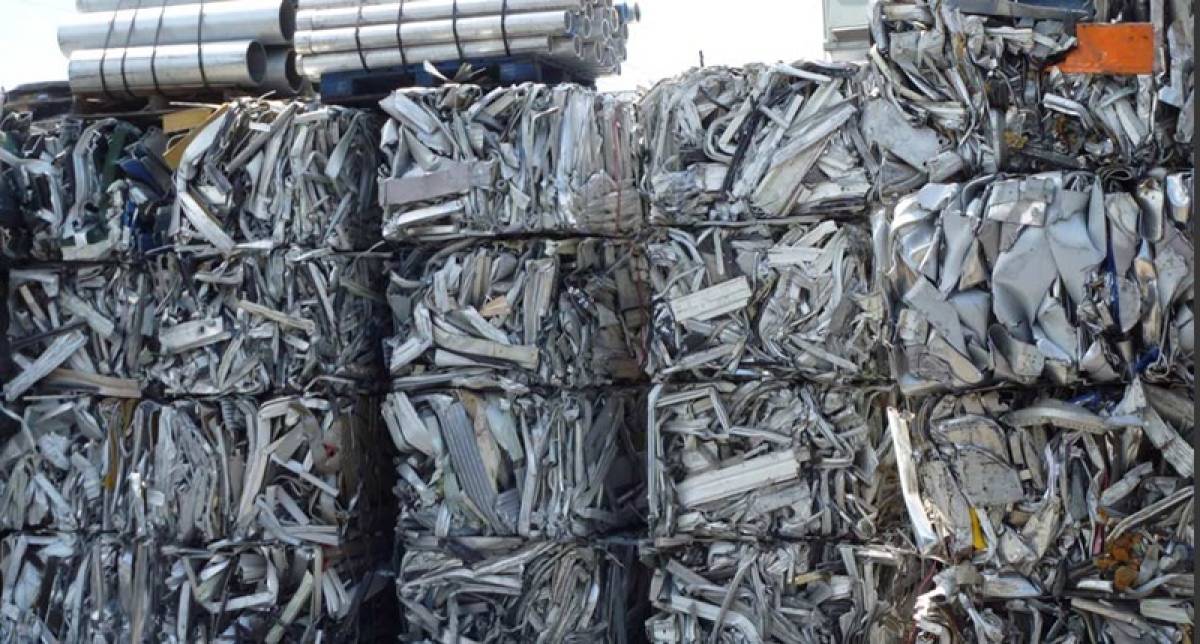 More than 48% of United States' aluminium metal supply in 2018 was from recycled metal, and the region is the world's most resource-abundant secondary recovery site because of its long history of aluminium production and consumption. In addition to scrap collected and recycled for producing secondary aluminium for domestic use, nearly 1.5 to 2 million tons of scrap is exported each year, representing one-third of the total global scrap supply.  In 2018, the U.S. recovered 3.7 million tonnes of aluminium from scrap and exported about 1.76 million tonnes of scrap.
The transition in dynamics of aluminium scrap market has started in mid-2018 due to the retaliatory tariffs on the U.S. scrap export by China. In early 2018, China declared revised aluminium scrap import policies to continue enforcing the country's plan to prevent the import of materials shipped into the country that do not meet the government's definition of being recyclable. This was followed by 25 per cent tariff on imported aluminium scrap from the U.S. Later on, in August, China imposed added 25 per cent tariff on OCC, recovered paper, scrap plastics and metals including various grades of aluminium leading to a total of 50% tariffs on aluminium imported from the U.S.
Impact on the U.S. Aluminium Scrap Export & Import
This certainly impacted the US scrap exports to China in H2 2018 and H1 2019.  The US imported 203,000 tonnes of aluminium scrap for the period from January to April 2019. The volume stood at 221,000 tonnes for the same period of 2018. The drop in scrap import is attributed to lower demand and falling prices of aluminium scrap in the domestic market. This however led to more domestic consumption of scraps. According to Harbor Aluminum Intelligence, recycled aluminium accounted for the largest share of the aluminium consumed in the U.S. in 2018(48%).
As for the export is concerned, the US exported a total of 623,000 tonnes of scrap in the period from January to April 2019, up 16% from 536,000 tonnes exported in the same period of 2018. Though the total export is on the rise, US export to China dropped 34% to 157,000 tonnes during January to April 2019 from 238,000 in the same period of 2018. According to Customs data, China's aluminium scarp import dropped to 1.6 million tonnes in 2018 from 2.2 million tonnes in 2017. According to Shanghai Metals market, China's total aluminium scrap import stood at 662,200 tonnes between January and May 2019.
Impact on other Asian Markets
An analysis of the aluminium scrap export by the U.S. in the period from January to April 2019 will give a clearer picture of how the total aluminium scrap export by the U.S. increased in the reviewed period despite the drop in export to China; its largest market. The U.S. has diverted its aluminium scrap export to other Asian countries to compensate for the loss caused by China.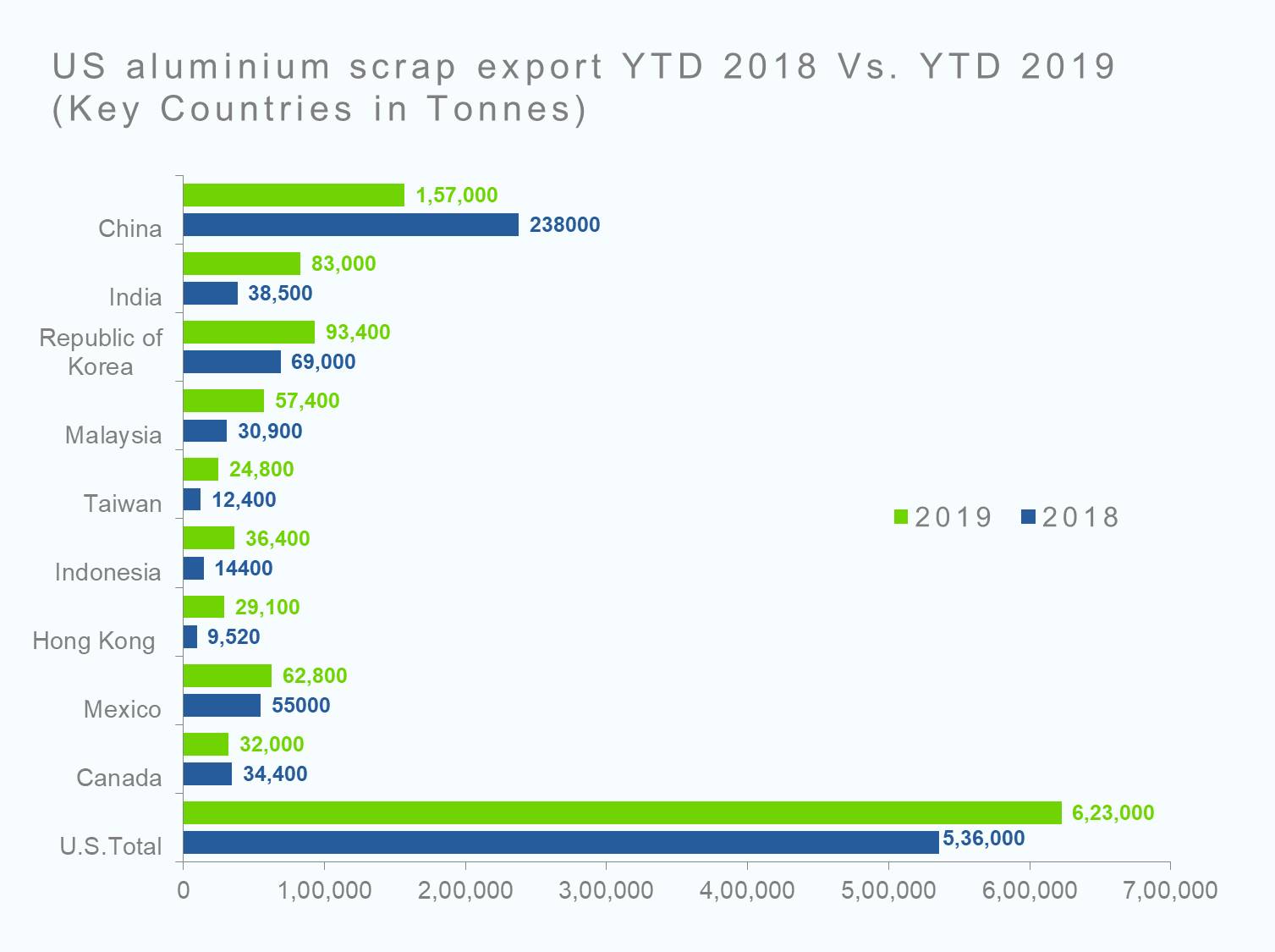 The US exported 83,000 tonnes of aluminium scrap to India for the period from January to April 2019, an increase of 115.5% from 38,500 tonnes exported in the same period of 2018. Indian aluminium producers are concerned that India has overtaken China as the preferred destination for the U.S. aluminium scrap with total imports growing 18.8% in the January-March 2019 quarter compared with the same quarter of the previous year. This, according to industry players, is hurting Indian industry and is the direct result of the trade war between China and the US.
India imported 3,34,725 tonnes of aluminium scrap in the January to March 2019 quarter compared with China's 3,30,567 tonnes in the same period, according to a report by S&P Global Platts.
Aluminium Scrap Exports to other South Asian countries like Hong Kong, Indonesia, Taiwan, Malaysia, and South Korea have increased exponentially Year-over-year during the first four months of 2019.
The U.S. has also boosted its aluminium scrap export to Mexico by 15% though its export to Canada has remained flat YoY.
Impact on China Scrap Market
SMM reported that aluminium scrap supply in China continued to show signs of tightness in H1 2019 pushing prices higher. This is expected to offer some support to prices of secondary aluminium. Improved buying interest among secondary aluminium producers, fewer supplies from domestic scrapyards and fewer inflows of seaborne materials tightened the low-quality aluminium scrap market. Supplies of aluminium scrap shrank, as high temperature and previous declines in prices of aluminium scrap prompted domestic scrapyards to scale back operations, and as environmental probes hit supplies.
The newly implemented restrictions on scrap aluminium imports from July 2019 are likely to raise cost for Chinese secondary aluminium smelters, which in turn may raise the export price of Chinese secondary aluminium alloys. Since July, only companies with licenses from the Ministry of Environment and Ecology imported scraps by the quota set by the ministry on a quarterly basis.
China's Ministry of Environmental Protection issued the latest batch of quotas in July, allowing 306,930 tonnes of aluminium scrap to enter China. This and the 9th batch of import quotas allowed a total of 361,186 tonnes of aluminium scrap to enter China, compared to imports of 349,510 tonnes registered in Q3 2018, Shanghai Metals Market reported.
China's imports of aluminium scrap are expected to fall 16% year-on-year to 1.31 million tonnes in 2019, as the country expects lower aluminium scrap import quotas in Q4. Aluminium scrap import quotas are likely to drop to 120,000 tonnes in Q4 compared with 361,000 tonnes in Q3, Shanghai Metals Market estimated. The import quota system is likely to continue till the end of 2020 and from 2021, all scrap imports would be banned by China.
Like this Article? Subscribe to Our Feed!