Abstract
This is an appropriate time for India to pick up the bauxite and alumina production in the country by judiciously exploiting the enormous bauxite resources in the country. With the auctioning of large bauxite deposits to existing alumina plants of Odisha and further outlook to set up two greenfield plants, India may supersede Australia in alumina production by 2030. India has now developed enough expertise to build its own alumina refinery and continuously improve production and productivity in the existing plants. In order to keep running the existing alumina refineries efficiently, it is necessary to ensure the supply of bauxite with consistent grade and minimum variation in quality. Efforts should be made to utilize bauxite of natural cut-off grade and enhance resources by resorting to beneficiation processes for overburden laterites and high silica ore. Another growing area for a large number of small and medium-scale industries in India is the production of special alumina products, as they have high demand in the world market. The High Purity Alumina (HPA) used in EVs are yet to be produced in the country. The paper highlights the availability of bauxite and present – and future forecasts for alumina production in the country.
Provided key points for the sustainability of the Indian alumina industry and also suggested options to increase bauxite and alumina production in the country.
1. Introduction
India is currently the third largest alumina producer in the world after China and Australia. With the auction of 3 major bauxite deposits in Odisha and the announcement of two new alumina refineries, there may be a significant boost in the country's bauxite mining and alumina production. The Sijimali bauxite deposit, having more than 300 million tonnes (Mt) of resources, is being developed by Vedanta Aluminium for large-scale mining. Kutrumali of about 125 Mt resources and Ballada deposits are given to MAL (Mundra Aluminium Limited) of Adani for a greenfield alumina plant.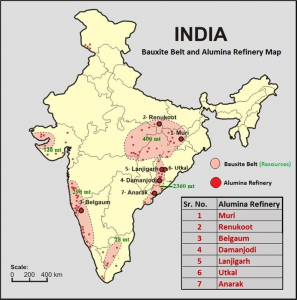 Fig.1: Bauxite Areas and Alumina Refineries of India
Hindalco Industries is all set to establish a 2 million tonnes per annum (Mtpa) alumina refinery in the Rayagada district of Odisha. The company has entered a long-term Memorandum of Understanding (MoU) with the Odisha Mining Corporation (OMC) to source bauxite for the project. This upcoming project will be HINDALCO's second refinery in the Rayagada district, aspiring to change Odisha's industrial landscape. All these developments may have a positive impact, and alumina may be available not only for smelters but also to boost the production of special alumina in the country.
2. Bauxite Mining Forecast
India is traditionally rich in laterites and bauxite; however, due to various reasons, including tribal and local issues, many bauxite deposits in the Eastern Ghats region remained unexploited. Andhra Pradesh has completely banned the exploitation of their excellent quality bauxite due to various issues of contention between the successive governments and organizations representing the local tribes. Therefore, all the developments are observed in Odisha only. India's bauxite production varied from 17 to 27 million tonnes per annum during the 2014 to 2023 period, as shown in Fig.2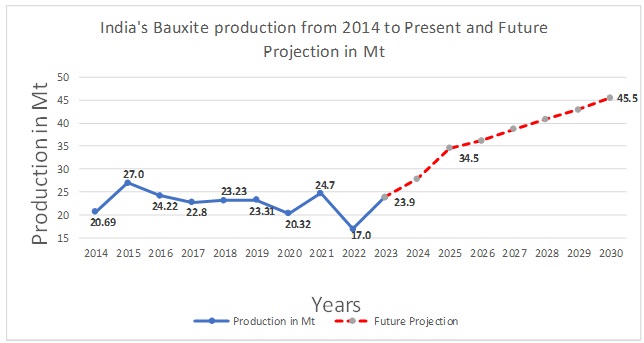 Fig.2: Bauxite Production in India and Future Forecast
As shown in the above graph, bauxite production has gone up to 27 Mt during 2015, when India was exporting bauxite from Gujarat. However, present production is only 24 Mtpa as export has almost stopped. With the developments of new metallurgical grade bauxite mines in Odisha, the bauxite production is expected to increase rapidly in coming years, and the country can produce up to 45 Mtpa bauxite by 2030 to feed the increasing demand for alumina plants. About 93% of bauxite production in India goes to the alumina-aluminium industry, and the remaining is used in the non-metallurgical industry, including value-added products for refractory and abrasive industries.
Although the auction system provides a huge monetary benefit to the government, in the long run, considering bauxite as a commodity may harm not only the alumina industry but also goes against the conservation of mineral resources. Some of the arguments for this are as follows:
A sensible alumina refinery, having a captive bauxite mine, will always try to improvise and prolong the life of the mine by bringing down the cut-off grade and exploiting all the available resources by adjusting the plant parameters.
Each bauxite deposit is unique in its ore characteristics and requires a set of parameters for effective processing in the plant. Refineries are planned according to a given captive source's metallurgical and mineralogical features. In the longer term, lower grades can also be accepted by systematically decreasing the cut-off grade and/or resorting to beneficiation processes.
The varying quality of purchased and imported bauxite plays havoc in the plant, and productivity decreases significantly.
Third-party mining and selling bauxite has the least consideration about the requirement of the plant, and the main objective is to sell the ore at the maximum price.
Systematic development, long-term plans and quality control systems are best implemented in captive bauxite mines with the objective of increasing the life of the deposit.
3. Alumina Production Forecast
Despite the shortage of domestic bauxite, each alumina refinery in the country strives to increase production and productivity. During 2010, India was producing only 5 Mtpa alumina and today, and this has risen to about 9 Mtpa, as shown below in Fig.3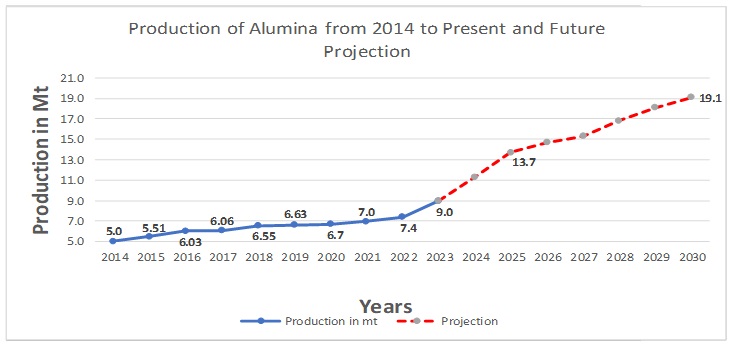 Fig.3: Alumina Production in India and Future Forecast
With the planned increase of alumina production in the Lanjigarh alumina refinery of Vedanta and the likely achievement of installed capacity at the ANRAK plant, alumina production may go up to 13.7mtpa by 2025. Further, with the construction of 2 new alumina refineries in Odisha by Adani and HINDALCO, the alumina production can be increased to about 19 Mtpa by 2030.
Options for Alumina Production
There are various options available for companies interested in setting up alumina and aluminium production facilities in India, and some of them are listed below:
Like China, India should consider setting up future port-based alumina refineries, which can regularly use domestic beneficiated ore and high-grade imported bauxite. In this case, a long-term bauxite import strategy can be developed.
Countries like Guinea, Cameroon, Indonesia and Vietnam have rich bauxite resources, and they welcome to set up alumina refineries in their country. These countries have vast lands and comparatively relaxed environmental regulations.
Australia offers an opportunity to import uniform quality bauxite, and coast-based plants can be constructed precisely based on this type of resource. Gove and Weipa bauxite mines have vast resources with well-developed infrastructure.
Some of the countries have large bauxite resources that offer an excellent opportunity for the Greenfield plant.
Guinea: This country has the world's largest and best quality bauxite reserves. The planned alumina refinery of BHP Billiton estimated landed bauxite cost in the refinery within US$3 per ton, which is the lowest in the world. There are plenty of land, water and other natural resources available in Guinea, and environmental legislations are also comparatively relaxed here. However, this country needs better infrastructure to set up greenfield alumina refineries, and practically, there is no trained workforce, and raw materials like caustic soda, lime, and energy have to be imported.
Cameroon: A large reserve of high-grade bauxite is available in this country; however, the deposit is located about +800 km from the port with poor infrastructure. However, this bauxite deposit of Canyon Resources is suitable for a large pit head low-temperature refinery, which can produce alumina at the lowest cost.
Indonesia: There are several large and medium-sized bauxite deposits/mines in the country, but they still need to catch up in alumina production. Normal bauxite in Indonesia requires beneficiation to bring down the silica content to below 4%. Chinese have set up one alumina refinery in this country, and there is scope to set up 2-3 more plants here.
Vietnam: There are several large bauxite deposits in Vietnam, and some mining companies are looking for strategic partners to develop these resources. According to the United States Geological Survey, Vietnam is estimated to hold the world's third-largest bauxite ore reserves after Guinea and Australia. Most of Vietnam's reserves are located in the Central Highlands (Tây Nguyên) and have only been minimally mined. These bauxites also require washing; after beneficiation, high-grade ore can be produced here.
An alumina refinery and smelter can be planned in a Gulf country with cheap energy and other raw material resources like caustic soda and lime for alumina production. As these countries are located on the coastlines and nearer to African bauxite deposits/mines, the aluminium industry may be viable in these countries.
Conclusions
Despite having more than 3 billion tons of bauxite, India is struggling to mine 23 million tons of ore, which is not sufficient for growing alumina requirements in the country. There is a potential to increase bauxite production to the level of 50Mtpa by unlocking known and partly explored deposits in the country.
The present third-party sale of bauxite is harming the judicious use of mineral resources for alumina production, as this is not a general commodity. The captive bauxite mine for each refinery provides several advantages, including conserving valuable resources.
The fluctuating bauxite quality and processing of different types of ore cause a loss in productivity in the refinery, and it is better to process consistent low alumina and medium to high silica ore.
A systematic mine plan, grade control drilling, generation of Internal Reference Materials (IRM), table-top XRF, use of stacker-reclaimer and online analyser can help in long-term quality control and provide ore of consistent quality.
There is scope to partly beneficiate typical Eastern Ghats bauxite by crushing followed by screening out of fines, which decreases kaolinite and goethite contents, reduces moisture, and improves handling characteristics.
As India has limited bauxite resources, opportunities are available in Australia, Guinea, and Cameroon. Indonesia and Vietnam can be explored to increase alumina and primary metal production.
4. IBAAS-JNARDDC 2023
International Bauxite, Alumina & Aluminium Society (IBAAS) is organizing the 11th IBAAS Conference and Exhibition in association with Jawaharlal Nehru Aluminium Research Development and Design Centre (JNARDDC) Nagpur, India, during December 4-6, 2023. The theme of the IBAAS-JNARDDC 2023 conference is "Latest Technological Developments in Alumina & Aluminium Production". More than 60 companies and organizations have already confirmed their participation in this mega bauxite, alumina and aluminium event. About 55 technical papers will be presented in a 3-day event, and there is also an exhibition to showcase the equipment and technology for the aluminium industry. The Conference will provide an excellent opportunity to know the latest developments in the aluminium industry and interact with experts, scientists, engineers, entrepreneurs, equipment manufacturers, and representatives of aluminium industries worldwide. Opportunities are available for sponsorship, exhibition and advertisements.
Like this Article? Subscribe to Our Feed!