Introduction
Guinea, a small west African country, is endowed with more than 40 billion tons of metallurgical grade bauxite and thus occupies the top position in the world.  Despite being blessed with world's largest bauxite deposits, till recently Guinea was lagging behind in bauxite production compared to major producing countries like Australia, Brazil, China and India. However, the scenario is fast changing now with the entrance of Chinese, Abu Dhabi and Russian companies. One of the interesting features of Guinea bauxite is the natural low reactive silica content (<2%), which makes this most favorable for alumina production in the world. Further lateritic bauxite of Guinea is basically gibbisitc in nature with less than 2% boehmite, absolutely suitable for low temperature alumina refinery. Only high grade Sangaredi sedimentary bauxite has high monohydrates, which is fast depleting.  Although from alumina processing point of view, Trombetas bauxite of MRN, Brazil is considered the best in the world, however, this is beneficiated washed ore with comparatively higher cost in the world market. In the present paper, Guinea is compared with leading bauxite producing mines of the world with reference to its Geology-Geomorphology, Resources, Chemistry-Mineralogy, Mining and Alumina processing point of view.
In Guinea first bauxite mining started in sixties in Fria known as Aluminium Company of Guinea (ACG), where first alumina refinery of Africa was set up by Pechiney.  Later on with the discovery of high grade Sangaredi sedimentary bauxite basin, CBG (Compagnie des Bauxites de Guinea) started bauxite export operation in early seventies. Presently there are two more bauxite mining companies one of them is CBK (Compagnie des Bauxites de Kindia), RUSAL and latest one is SMB (Société minière de Boké) started by Winning Group, an arm of Weiqiao China. This Chinese company has built 2 jetties on river Nunez within the span of a year and rapidly increasing production from present 15 million tons per annum to 20 MTPA. Experts predict that Guinea will replace Australia as China's top bauxite supplier within this year. Bauxite output in Guinea totaled some 19 million tonnes in 2015 and is expected to reach 28 million tonnes by 2016. The figure is likely to hit 66 million tonnes by 2018 along with expansions at CBG and commencement of GAC, COBAD (RUSAL-Dian Dian) and ALUFER, according to the Ministry of Mines and Geology of the Republic of Guinea.
The present paper highlights the positive features of Guinea bauxite and existing mining activities in the country including incoming projects and future potential of this west African country. The Guinea bauxite is also compared with leading bauxite mines of the world and highlighted how this country can change the world bauxite scenario.
Present Bauxite Leases and Mining Companies of Guinea
Almost every year, Government of Guinea (GOG) publishes bauxite cadastral map showing bauxite mining concessions, exploitation and exploration licenses. Bauxite mines / deposit are divided into 3 groups:
Concession Minerals (Bauxite Mining Leases)
Permission for Exploitation
Permission for Exploration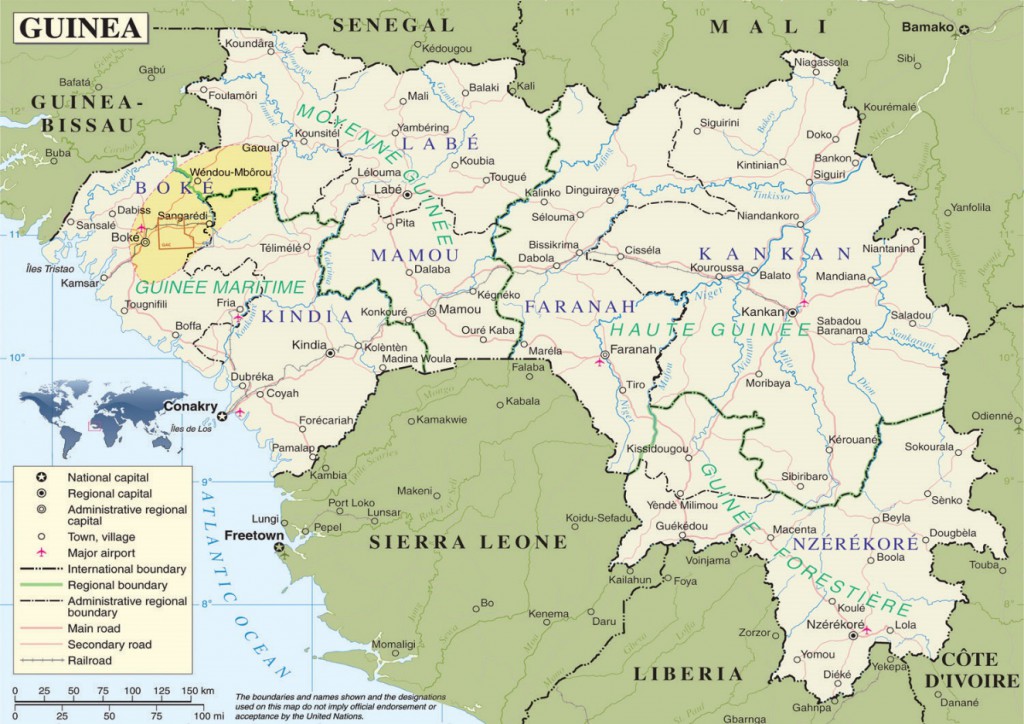 Figure 1: Map of Guinea showing Boke Bauxite Belt
Currently about 60 Bauxite exploration & mining companies are active in Guinea. However, at present companies like CBG, CBK, SMB and GAC/EGA are operating their mines and exporting more than 30 million tons of bauxite per annum.  By the end of this year RUSAL with ready infrastructure (third jetty on River Nunez) may start operating a large bauxite concession of Boke area known as Dian-Dian. SMB, a Chinese company has ambitious plan to increase the production to the level of 30 MTPA and along with this the expansion plan of CBG and start of RUSAL and GAC-EGA mines, the total bauxite export may reach to 60MTPA from this small west African country within 3 years period.
General Features
The lateritic bauxite deposits of Guinea occur at low levels (200 to 400m above MSL) in the flat topped plateaus with practically negligible soil and overburden. The bauxite is underlain by a stacked pile of argillite, siltstones and minor sandstone intercalations of the Lower and Upper Members of the Faro Suite, widely intruded by sills and dykes of Mesozoic dolerites. A typical bauxite plateau and 3D view of Guinea bauxite deposit are shown in Figures 3&4.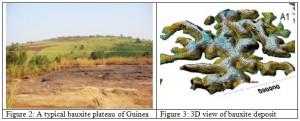 In the Boke bauxite belt, laterites are typically between 10 m to 20 m thick on the upper part of the plateaus. An iron-enriched cap, between 1 m to 2 m, covers a highly leached sequence that is made up essentially of hydrated aluminium and iron oxides. From resource point of view, CBG concession area is endowed with more than 3 billion tons of bauxite and this may be the highest among all the running bauxite mines.
Chemical & Mineralogical Characteristics
One of the interesting features of Guinea bauxite, particularly in Boke bauxite belt is fairly low silica content and this does not increase with lowering of alumina content. About 50% of total silica is in the form of reactive silica and about 1.2 to 1.8% reactive silica, in average, makes them ideal for processing in the low temperature alumina refinery. Alumina content varies from medium (40%) to as high as 52% in the lateritic bauxite deposits and in average 46% alumina (about 42% available alumina) can be exported from these deposits. Lateritic bauxite is mainly gibbsitic in nature with less than 2% boehmite, with concentration mostly at the upper level of laterite profile. Bauxite deposits, occurring near the coastal belt of Guinea sometimes have relicts Andalusite and Pyrophyllite minerals, which reduces the available alumina content in the ore.
Bauxite Mining
In the opencast mines of CBG, Bauxite is exploited by simple drilling-blasting technique and loaded into the trucks as shown in Figure 6. Bauxite is crushed, blended and partly dried at Kamsar port before export. RUSAL at their Kindia operation uses Surface Miner (Figure 5) to directly produce <100mm bauxite, which is exported from Conakry port without drying. SMB, a Chinese company, mines bauxite by drilling-blasting and exports medium grade (40-42% Alumina) bauxite from jetty on river Nunez.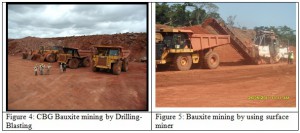 There is no processing or beneficiation required for Guinea bauxite as they have natural low silica and except CBG other companies export bauxite without any drying.
Grading of Bauxite Mines of the World
The large bauxite mines (>5 MTPA size) presently operating in the world are CBG, Guinea, Weipa, Gove, Darling Range in Australia, MRN Trombetas, Juruti & Paragominas in Brazil and Panchpatmali in India. Except Guinea and Indian bauxite, most of the raw ore requires wet beneficiation process mainly to reduce the silica content. The large captive bauxite mines of Darling Range on the western part of Australia are comparatively poor grade and suitable for pit head processing. However, recently ALCOA has stated exporting this bauxite to China. From Geo-metallurgical point of view, the bauxite mines of the world can be divided in 3 groups namely Gibbsitic Bauxite (less than 3% monohydrates), Boehmitic and Diasporic Bauxite. The earlier definition of Gibbsitic bauxite with less than 5% is modified here as low temperature alumina refineries prefer low boehmite as it causes auto-precipitation apart from non-recoverable alumina.
For the low temperature alumina refinery (1450C), the terminology of Available Alumina (A.Al) & Reactive Silica (R.Si) are used, whereas for high temperature plant (2400C) 'Total Available Alumina (TAA)' is used for the maximum extractable alumina under laboratory condition. At high temperature refinery, almost total silica of bauxite becomes reactive, therefore total SiO2 values are considered here.
This grouping is mainly based on resources, grade, price and availability of bauxite in the world market. It can be argued that MRN is as good, possible better than CBG low mono as MRN has 50% A.Al, zero boehmite and almost no organics. However, this is one of the costliest bauxite available in the world market and require wet beneficiation process to achieve this grade. The washed bauxite of Awaso, Ghana is a captive mine of Bosai Minerals Group, China and not available for sale.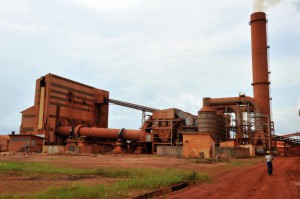 Conclusions   
Guinea has the largest bauxite reserve in the world at more than 40 billion tons of bauxite reserve.
The bauxite mining and export from Guinea is fast picking up with present export of about 28 MTPA and a plan to reach 66 MTPA by 2018.
 Bauxite occurs in the low lying plateaus of 100 m to 300 m above mean sea level and formed   by the laterisation of the aluminium bearing sediments (siltstone) and dolerites.
Bauxite is characterized by fairly low silica content (about 2.5% SiO2- only half is reactive) and medium to high alumina (46-48%).
Boke Bauxite is primarily gibbisitc in nature with less than 3% boehmite and there are low level of impurities including organic content.
Bauxite are easy to mine in Guinea and does not require any dry or wet beneficiation process thanks to natural low silica content in the ore.
Although from the alumina production point of view, Trombetas bauxite of Brazil is considered the best in the world; thanks to comparatively lower price of Guinea bauxite, higher resources and huge future potential, Guinea bauxite will be the prime driving force for development of alumina industry.
The Boke bauxite belt of Guinea, a most prolific bauxite province of the world, can feed worldwide alumina refineries and replacing some of the Australian and Indian bauxite in the world market.
This year IBAAS in association with CAMEN Resources is organizing 6th International Bauxite-Alumina symposium in Conakry, Guinea during September 21-22, 2017. All the leading Bauxite-Alumina companies of Guinea and several organizations and experts from all over the world will participate in this mega event. This symposium will provide an excellent opportunity to discuss bauxite business opportunities in Guinea and West Africa. Please visit website http://www.ibaas.info/for further details and download latest circular of this conference. Kindly contact IBAAS office info@ibaas.infofor registration, visa invitation and further queries.
(Dr Ashok Nandi is a Geological Consultant and Secretary for IBAAS. You can reach him for any query at: ashok.nandi@ibaas.info; info@ibaas.info; mineralinfoindia@gmail.com or call him at +91 9823015772.)
Like this Article? Subscribe to Our Feed!