The year 2018 is already on a roll. Global aluminium industry is bracing up for new challenges and opportunities. LME aluminium prices are rising, but not without intermittent dips; raw material price trends have entered a plateau zone; supply concerns are still there; and amid all these, the demand for the light metal is rising – rising steadily. Driven by environmental sustainability concerns, transport, construction, electrical, packaging and other sectors are leaning more towards aluminium. To further boost that trend, industry players are organizing events which speak about aluminium's potential use in a wide range of applications.
We have listed here few major aluminium industry events from February and March which are mostly themed on downstream aluminium manufacturing and end use applications. Find out the ones you cannot afford to miss: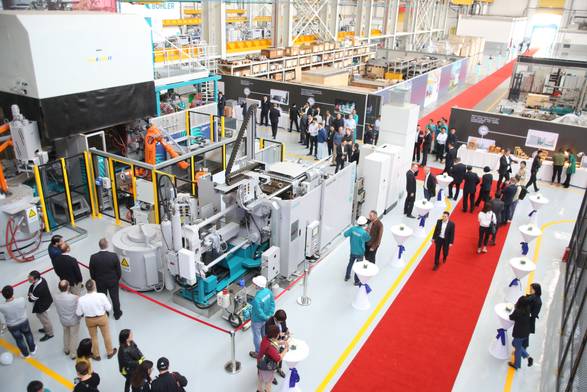 1. 2018 Die Casting Executive Conference
Date: February 25, 2018 – February 28, 2018
Location: Florida, USA
After a very successful NADCA Die Casting 2017, the die-casting event is back again with its 2018 edition. This year, once again it will present an exciting opportunity for the aluminium die casting fraternity to come and discuss various aspects of business and technology advancements in manufacturing, metalworking, die casting and metal casting domains.
2. 24th Bauxite & Alumina Conference
Date: February 27, 2018 – March 1, 2018
Location: Montego Bay, Jamaica
An essential gathering of key bauxite and alumina industry players, this is a must attend event for anyone interested in these two very important industrial commodities. Bauxite & Alumina Conference will present an excellent opportunity for you to connect with more than 200 high level decision makers from across the global bauxite & alumina markets. A networking highlight this year will be a field trip to Noranda Bauxite mining sites.

3. Eurasia Window Fair 2018
Date: March 7, 2018 – March 10, 2018
Location: Istanbul, Turkey
For any structural component maker having presence in the European and Asian building and construction market, this fair has a special significance. With an extensive scope in Window Production Machinery, Window Production Technologies, Window Profiles, PVC, Facade Systems, Window Mechanisms, Window Auxiliary Products, Insulation Materials and Raw Materials it promises to bring the biggest manufacturers and decision makers of the industry under one roof.
The Aluminium Special Section presents an added opportunity for the aluminium extrusions and aluminium panel makers to network and do business.
4. Appliance & Electronics World Expo 2018
Date: March 8, 2018 – March 11, 2018
Location: Shanghai, China
One of the world's three largest and influential appliance and electronics exhibitions, Appliance & Electronics World Expo (AWE) is organized in China every year by the China Household Electrical Appliances Association (CHEAA). This exhibition gives a perfect platform to the national and global appliance & electronics production enterprises to showcase their cutting edge products and technology to the audience from all over the world. If you are eager to know about the latest advancements in intelligent manufacturing, artificial intelligence, smart homes, and industrial development, this is event where you should be.
5. 7th BMR (Bureau of Middle-East Recycling) International Conference
Date: March 10, 2018 – March 11, 2018
Location: Dubai, UAE
The Conference will highlight advances in recycling technologies, challenges faced by global recyclers, and opportunities to be seized for a sustainable industry development. Experts from the industry and academia will congregate to present papers and discuss issues relevant to the industry. If you are from the aluminium value chain owning aluminium recycling facilities and/or dross processing units, be there to gain insights into the latest industry developments.

6. IFMET 2018
Date: March 14, 2018 – March 16, 2018
Location: Mumbai, India
The International Foundry and Metal Expo 2018 edition will see experts from across the foundry sector assembling and presenting the latest technological developments in metal manufacturing. The event will provide unmissable business opportunities for the manufactures of Foundry, Metal, Metallurgy, Steel and allied industries to showcase their technologies, new initiatives, products and services to the global audience.
7. Metals in the Future 2018
Date: March 19, 2018 – March 20, 2018
Location: London, UK
A comparatively new conference, Metals in Future explores long-term impact of green technology on metals supply and demand. The conference examines a broad spectrum of materials, including aluminium, ferroalloys, and other minor metals that score high on sustainability and recyclability quotient. If you intend to understand materials flows and successfully predict long-term demand of aluminium and aluminium alloys, be there and reap the benefits of an exciting networking opportunity.

8. INAPA 2018
Date: March 22, 2018 – March 24, 2018
Location: Jakarta, Indonesia
The 10th Indonesia International Auto Parts, Accessories and Equip Exhibition 2018 is the largest event of its kind in the ASEAN region. The event brings international auto part and accessories manufacturers and suppliers on to one platform and showcases their offerings, technologies and methods to the targeted maintenance professional audiences from across Asia and other countries.
It also serves as a highly effective sourcing platform to attract quality buyers from the whole automobile industry chain. So, if you are an aluminium automotive part or rolled product manufacturer, be there at the event and make the most the networking opportunity it presents.
Like this Article? Subscribe to Our Feed!