China's alumina price has been on the decline since the middle of December 2018. Alumina prices fluctuated in the first six months of 2019. The first quarter witnessed a decline, while the second quarter saw some corrections. From January to mid-April, the domestic prices remained on downward trends, mainly attributable to the low production cost of alumina, weak demand, and excess supply. The bauxite supply in Shanxi and Henan increased on the withdrawal of the environmental protection inspection which put pressure on the alumina prices. Global alumina prices increased at the beginning of 2019, with a pullback in the middle, but then continued to decline. EGA alumina project, Hydro Alunorte plant and China alumina exports are the key factors that had a bearing on overseas alumina prices. Let's have a quick look at how China alumina price and overseas alumina price performed in the first six months of 2019.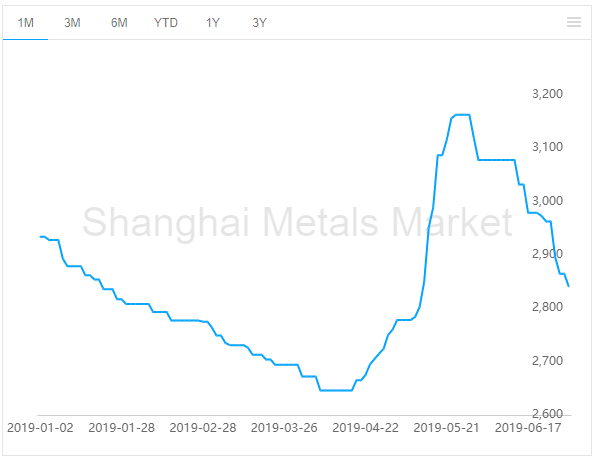 Shanghai Metals Market data showed that alumina price stood at RMB2928 per tonne as of January 7, down some 12% from the 2018 peak of RMB 3321 per tonne. Alumina price reached RMB2808 per tonne at the end of January. The monthly average domestic alumina price stood at RMB2866.32 per tonne and RMB2787.33 per tonne in January and February 2019. Alumina price continued to decline in March and April 2019. The monthly average domestic alumina price came in at RMB2720.62 per tonne and RMB2676.67 per tonne in March and April 2019.
From April 18, alumina price started its upward trend and continued till May 28. The monthly average alumina price in May stood at RMB2993.15 per tonne, up 11.82% from April. The upward movement was due to:
Some alumina production capacity was affected due to Shandong Weiqiao environmental protection technical transformation and Shanxi Fusheng Inner Mongolia Xinwang maintenance work
Sanmenxia operation capacity reduced to 2.1 million tonnes
Chinalco's mining loss reduced output by 1 million tonnes
At the same time, primary aluminium capacity in China started to increase slowly. Hoarding and stockpiling begun in the Chinese markets in expectations of higher prices and investors increased their enthusiasm to participate in trading of aluminium. These activities pushed up prices slowly.
The rise in alumina prices was also due to the lower daily output of alumina. In May, the average daily alumina production was 1000 tonnes lower than that in April.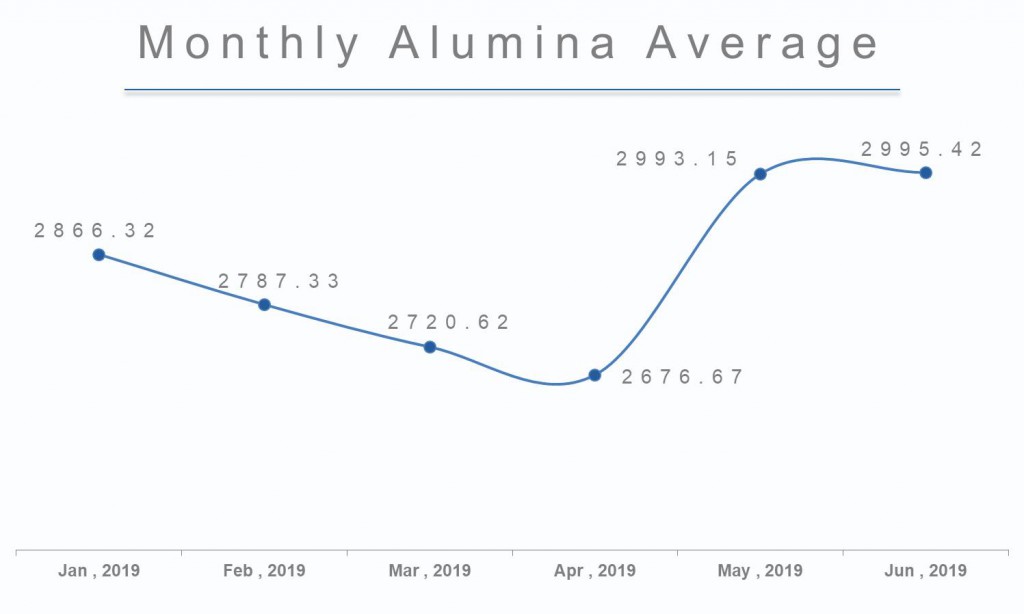 Shanghai Metals Market's data shows domestic alumina prices started falling to reach RMB 3119 per tonne on May 29 and in the end of June it further declined to RMB 2841 per tonne. China's domestic alumina price is on a downtrend despite alumina production cuts in the country. But the monthly average domestic alumina price increased slightly to RMB 2995.42 per tonne in June, up 0.08% from May.
Overseas alumina prices rose at the beginning of the year due to the collapse of the Vale (Vale) mine dam in Brazil and delayed the resumption process of Hydro Alunorte. Hindalco's Jharkhand alumina plant also had a red mud leakage accident on April 9 pushing the global alumina prices up. But Hydro's announcement of the resumption of production of Brazilian alumina plant Alunorte turned alumina prices downward again.
China's alumina supply was not affected by the full production cut at Xinfa Group's Jiaokou alumina refinery. The market has not showed any sign of tightness until now. The downwards curve is expected to continue as China continues to export alumina and more alumina capacities are likely to come online this year.
Average alumina (Imported) price continued to decline to RMB2950 per tonne as of January 9, 2019. The downward curve continued till mid-February at RMB2850 per tonne. The price entered an upward phase on February 18 at RMB2850 per tonne. Alumina (Imported) price again dropped on April 26 and April 29 at RMB29800 per tonne and RMB2950 per tonne. The price is currently on a downtrend and hovering at RMB2700 per tonne. The price is expected to move within a range of RMB2650 per tonne and RMB2750 per tonne in the short term.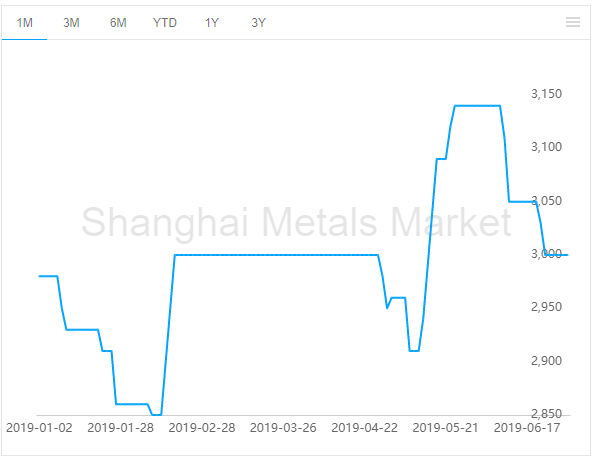 The outlook for the remainder of the months is looking weaker as Hydro Alunorte alumina plant returns to full production. In addition to this, EGA's Al Taweelah alumina refinery, which has started production in April, is expected to produce two million tonnes of alumina per year after the complete ramp-up; and the Alpart Alumina refinery in Jamaica, India Vedanta's Lanjigarh refinery and Friguia refinery in Guinea are other refineries that are going to add to alumina capacity in 2019. All these factors might create an oversupply, resulting in lower alumina prices in the rest of 2019.
Like this Article? Subscribe to Our Feed!