Aluminium extrusions are all over. They are used in buildings, in automobiles, in equipment and appliances and where not! Industries are just waking up to the enormous benefits of these versatile metal products, and it is only a matter of time before they become the mainstay of modern day architecture.
There was a time when ferrous metals used to be at the core of any engineering and technological innovation or project. With the turn of the century, lightweight metal wave has swept across economies, and the use of aluminium and aluminium extrusions has picked up over the years.
In the last two decades, the use of aluminium alloy has increased drastically, now forming more than 50 per cent of the total market share of all extruded metal products. The reason why it has succeeded in outpacing other metal extrusions lies in the multitude of benefits aluminium provides as a metal. It is light, strong, and non-corrosive; blends with other metals to form aluminium alloys without compromising on strength and durability. Malleability of aluminium allows for more options in design and cost-effective production. And it can be recycled endlessly!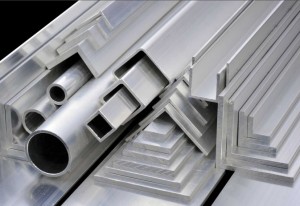 What is aluminium extrusion? process or product ?
Aluminium extrusion is basically a manufacturing process, but the end product too is known by the same name in generic use. Making the most of aluminium's excellent formability, the process creates shapes by heating billets of aluminium alloy to soften them and then forcing them with a hydraulic press or ram under high pressure through special steel dies. What results are pieces of aluminium that maintain the specific shape of the die. These end products are known as extruded aluminium products or simply, aluminium extrusions.
Aluminium extrusion applications:
According to the leading extrusion manufacturer, Sapa Extrusion, "The scope of use of extruded aluminium is limited only by imagination." – True that! There exists in the market today an assortment of aluminium extrusion products which are fabricated and customised according to the specific requirements of the customers.
Worldwide, Building and Construction industry is the major consumer of aluminium extrusions followed by the industrial and the transportation segments. High conductivity of heat and electricity makes this downstream product apt for use in nuclear reactors as well!
Aluminium extrusion in construction:
Construction sector uses aluminium extrusions in prefabricated forms- windows and door frames systems, curtain walling, roofing and exterior cladding, space frame systems, geodesic domes, canopies, bridge decks, atriums, and arches etc.
Other popular aluminium extruded products that are gradually replacing traditional wooden, concrete, or iron fixtures are portable/modular aluminium stairs, aluminium railings, aluminium panels, and aluminium framing components.  And this is not all! Aluminium extrusions are being used for making components of the international space station as well! So, if we talk about advantages of using the metal products in installations, they are endless.
Using aluminium extrusion in construction offers benefits other than weight savings. The components can be designed to incorporate additional features in fixings, channels, and interlocking systems that preclude the need for additional parts. Hence, the construct appears much more uncluttered leaving enough room for further improvisation. Think about contemporary aluminium window frames – they allow for easy placing of large glass panels which increase the amount of daylight intake in a room. The structural strength of the assembly is in no way compromised through this simplistic design.
Use of aluminium formwork is also gaining in popularity these days. A comparatively new technology, it saves time, cost, and improves quality of the construction. Moreover, aluminium structural components are receptive to top-grade architectural coatings which help in further value-addition. 
All things aside, aluminium extrusion products fit perfectly into the green building concept, which centres around the use of resources while reducing impact on people's health and environment.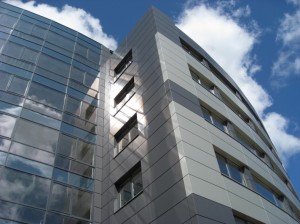 Aluminium extrusion in transportation:
Demand for aluminium extrusions in the automotive sector has literally zoomed in the last five years or so. Previously, the use of aluminium extruded products was mainly restricted to engine mounts, radiator frames, brake components, seat frames and a few other minor applications. Now, original equipment manufacturers (OEMs) are creating fresh demands for aluminium tubes, bars and profiles, and sheets for high-end equipment parts, crash management systems and other safety components, cockpit carriers, body-in-white structures, and elaborate decorative parts.
Extrusions are being used increasingly for manufacturing dashboard reinforcements, pedal mountings, wipers, door trimmings, chassis and suspension parts, electronic applications, electrical base carriers, brackets, and tanks.
Automobile equipment parts made from aluminium extrusions stand out by virtue of their lightness, design, forming optimization, and safety standards. Earlier most OEM suppliers would use aluminium scrap or cast aluminium to make aluminium extrusions which used to fall short of the international safety standards. But now, with safety norms being made stricter all over the world, automotive OEM suppliers have largely shifted to molten primary aluminium as their main raw material. So, the extruded aluminium automotive components manufactured nowadays have better finish and improved quality.
Demand driver:
Rising demand for lightweight vehicles is boosting the use of aluminium and aluminium extruded products in transport.
Lightweighting is needed to make an automobile 'efficient', so that it consumes less fuel and emits less carbon dioxide while yielding better performance in terms of sturdiness and speed.  Aluminium being low-density helps OEMs to balance the need for reducing weight with the need to cut cost. Moreover, the CAFÉ standards are being made stringent all over the world; this will further drive the demand for aluminium in automobiles in the long run.
Other areas of growing application:
 Telecom: Extruded aluminium is superior as heat dissipater. It outperforms cast aluminium with thermal conductivity that is twice as effective, and has lesser density than copper. So it is mostly used in heatsink solutions.  Cooling fins made from extruded aluminium can be spaced closely and with high degree of precision in a heatsink solution.
Solar power infrastructure: Aluminium is the metal of choice for Solar Panels manufacturers. About 40-50 tonnes of extrusions are used for mounting solar panel systems per MW of installation.
Consumer durable: Today, starting from furniture and appliances to gadgets, every article of daily use with long-term customer value has some aluminium component built in it. The underlying reason is same- aluminium serves as a versatile base for any kind of packaging value-addition; hence, it fits into contemporary consumers' changing tastes and sensibilities. Moreover, it is light, strong, and "green."
Global aluminium extrusions market:
According to the analysts, global aluminium extrusion market is set to witness a tremendous growth at a rate of around 7 per cent during 2015-2020. Of the three main product categories- Mill finished, Anodized, and Powder Coated, the Mill Finished segment alone is expected to reach around 13 million metric tons by the end of 2019.
China presently accounts for more 62 per cent of the global market share. During the forecast period it is expected to grow at a rate of 7 per cent. The increase in industrial consumption of extruded aluminium will drive the market in China.
Aluminium extrusion market worldwide is highly fragmented with only a handful of big players dominating the spectrum. Among the top aluminium extruders are the brands like Alcoa, Hindalco-Novelis, Hydro-Sapa, Gulf Extrusion, EGA, Constellium, and Kaiser Aluminum.  With demand for aluminium extrusion products growing stronger, more manufacturers and suppliers are expected to join the league. For that to happen a more conducive international trade environment is needed where there will be fair competition and faster adoption of technology across the borders.
Indian aluminium extrusion market:
India is a fledgling market for aluminium extrusions. Current per capita consumption of aluminium extrusion here is amongst the lowest in the world. But the country holds immense potential. India's infrastructure is undergoing a major overhaul. Smart cities are coming up; metro railway networks are being built across Tier 1 cities. And with the recent onslaughts of e-commerce, preferences of contemporary urban Indians are changing day in and day out. To keep pace with these changing socio-economic trends, core and ancillary industries such as aluminium extrusions are bringing out solutions that are global in their concepts, yet perfectly fitted for the local usage.
Indian aluminium extrusion market is fragmented and comprised mostly of SMEs barring a few companies like Century Extrusions, GAL Aluminium Extrusion Pvt. Ltd, Bhoruka Extrusions Pvt Ltd, Jindal Aluminium, Galco Group and Sapa Extrusion India (subsidiary of global Sapa Group). Till now, they have been relying heavily on aluminium imported from China, Middle East and South East Asian countries. However, after the recent 2.5 per cent import duty hike, they will now have to procure their raw materials from the domestic producers. It remains to be seen how they are benefited or affected by this change in duty structure.
Domestic primary aluminium producers too are now focusing on the downstream sector. Nalco, for example, has announced an investment commitment of INR 20,550 crore for setting up an aluminium park at Angul. Vedanta has also proposed to invest INR 1,000 crore on an aluminium downstream park, close to the site of its existing smelting facility at Jharsuguda.
It seems Indian aluminium makers are finally repositioning themselves in the global value chain. This was much needed given the cyclicality of aluminium business, capacity built-up from time to time, and price volatility. With the Central government betting big on 'Make in India', more aluminium extrusion manufacturers and suppliers are expected come on stream with the vision to grow through planned investment and strategic expansion.
Like this Article? Subscribe to Our Feed!