The COVID 19 pandemic swept across the world in 2020 and created challenges for the global aluminium industry in the short to medium-term. The decline in demand from the transportation and construction industries has significantly impacted the aluminium price on the London Metal Exchange.
World aluminium usage in 2020 was estimated to have declined by 4.1%, while the rest of the world is still reeling under the impact of the pandemic. Aluminium usage reduced to about 84.5 million tonnes in 2020 from 88.1 million tonnes in 2019 due to the Covid-19 pandemic outbreak.
Aluminium industry is likely to recover swiftly in 2021 with the unwinding of pent-up demand and with growth in demand for low carbon aluminium. Aluminium demand is projected to rise briskly at around 7.5% in 2021 with the recovery from the pandemic in major markets across the world. The global primary aluminium market is anticipated to be closer to balance in 2021.
Now, let's look at the forecast for the upstream and downstream sectors of the global aluminium industry in 2021.
Bauxite: Global bauxite production was projected at 363 million tonnes in 2020. Australia continues to be the top bauxite producer in the world with a total estimated production of 107.2 million tonnes. The output is likely to stand at 380 million tonnes in 2021.
Australia's bauxite production is estimated to reach 101.5 million tonnes in 2021 owing to the planned shutdown of mining in Queensland's Bauxite Hills mine. Australia and Guinea continue to be the leading exporters of bauxite, with China being the leading importer of the mineral. Global supply of bauxite will increase as mines in Guinea are planning to ramp-up capacities in the near future.
China's bauxite imports for the period January-October 2020 rose 14% to 96 million tonnes. The top 3 countries supplying to China include: Guinea, Australia and Indonesia.
Average domestic bauxite prices in China during 2020 were US$ 78.8 per tonne, a decline from last year's price of US$ 79.5 per tonne. The price reached a peak of US$ 82.7 per tonne during December 2020. The average domestic prices in China recorded during December 2020 (as of 16Dec20) were around US$ 82.5 per tonne against US$ 79.8 per tonne in December 2019, an increase of around 3.3%.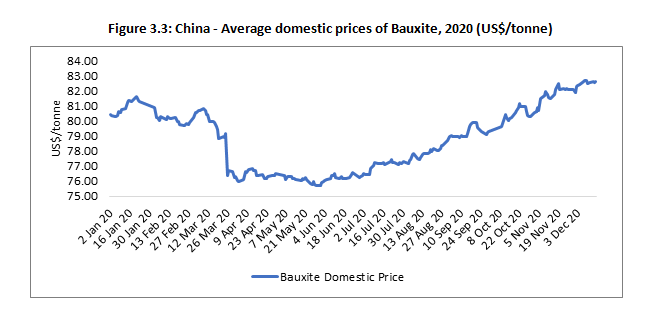 Both the Chinese bauxite price and the bauxite CIF price have not been fluctuating widely and remained range-bound for most part of the year. These prices may continue to be in the same range.
Alumina: Alumina prices in 2020 continued the trend seen in the latter part of 2019. The Australian alumina FOB price was below US$ 300 per tonne in 2020. The decline was due to ample supply of alumina and ramped up production levels witnessed in the Middle East.
In China, according to Shanghai Metals Market, the average spot alumina price started the year at US$ 350 per tonne. The average spot alumina price at China's domestic market continued to fall through March 2020, touching the lowest in April at US$ 291 per tonne. Since September 2020 to December 2020, the spot prices have been range-bound between US$ 340 per tonne to US$ 354.
Global alumina production in 2020 was estimated at 132.6 million tonnes, an increase of 0.5% from 2019. Metallurgical grade alumina production constituted 94% of the total alumina production.
The year 2021 may witness commissioning of new capacities in China along with construction of new alumina refineries. There will be pressure and oversupply from other international suppliers.
Primary aluminium and downstream products: A steady supply of primary metal due to lower demand from end user sectors created a gap between supply and demand during 2020. China's primary aluminium production increased to an estimated 37.4 million tonnes in 2020. Ex-China production increased only marginally.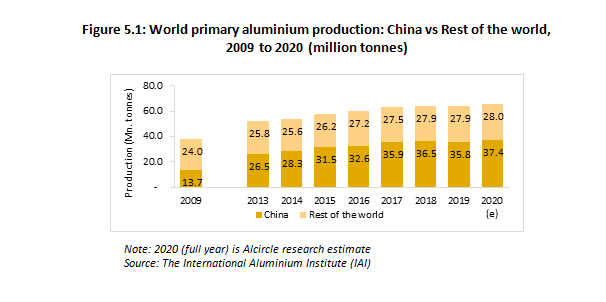 LME prices fluctuated widely throughout 2020. LME price of primary aluminium increased significantly towards the end of 2020 and reached US$ 2,050 per tonne by mid-December 2020.
In 2021, LME and SHFE prices are expected to be at better price levels. The gap between supply and demand of primary aluminium is likely to narrow down as a result of recovery in demand for the metal. World primary aluminium demand is expected to increase during 2021. The focus towards zero-carbon aluminium will rise and Europe is expected to lead in 2021.
Worldwide aluminium FRP usage was projected to stand at 21.9 million tonnes in 2020. China accounted for about 37% equating to 8 million tonnes of the total aluminium FRP usage, followed by North America and Europe each at 20%. The usage is expected to grow at about 6.7% to reach 23.4 million tonnes by 2021.
Aluminium foil usage across the world is estimated at 5.52 million tonnes in 2020 and is forecast to grow at 5.4% during 2021 to reach 5.82 million tonnes. The pharmaceutical sector is one of the major user sectors of aluminium foil.
Global aluminium extrusions usage declined to 27.5 million tonnes in 2020 and is forecast to grow by about 6.5% in 2021 to reach 29.2 million tonnes.
End Users: Aluminium demand in the transportation sector shed to about22.6 million tonnes in 2020 from close to 24 million tonnes in 2019. The consumption is projected to rise by about 10% followed by the packaging sector.
In packaging applications, the usage increased marginally and stood at about 12.9 million tonnes in 2020 due to higher demand for aluminium beverage cans and aluminium packaging foil for pharmaceutical packaging applications. Aluminium usage is expected to grow by about 6.5% in 2021 to reach 13.8 million tonnes.
Aluminium usage in electrical and electronics applications declined by about 4.4% during 2020 and stood at about 11.2 million tonnes. This is expected to increase as many governments have increased spending on infrastructure and interconnection of various power grids.
Recycled Aluminium: The industry in 2020 experienced difficulty as the supply chain was disrupted due to non-availability of scrap and with the suspension of operation by recyclers due to lack of manpower. The usage of recycled aluminium dropped to about 9 million tonnes in 2020 after a decline in automobile production.
Global export of aluminium scrap has grown at a CAGR of 2.4% in volume terms between 2014 and 2019 and has reached 9.2 million tonnes. During the first 10 months of 2020, the export of aluminium scrap stood at 5.4 million tonnes against 6.7 million tonnes for the corresponding period in 2019
Recycled aluminium usage is expected to increase in 2021 as the demand resumes in the transportation sector.
Like this Article? Subscribe to Our Feed!