A single tonne of recycled aluminium saves approximately 8 tonnes of bauxite, 6,300 litres of oil, 14,000 kWh of energy and 7.6 cubic metres of landfill.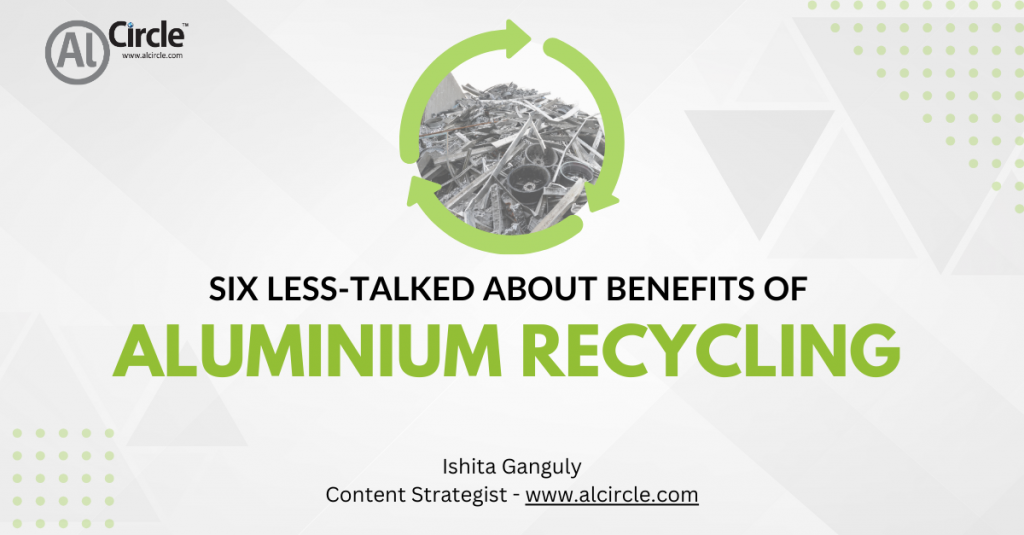 In a world where every resource counts, imagine if your first car had infinite lives; just like those mythical cats with their legendary nine lives. But in this unique universe, aluminium doesn't stop at nine, it goes on forever!
Aluminium recycling is no longer a lifestyle choice and isn't merely about repurposing old cans, it's a silent superhero in our mission for a circular economy and a greener future. So, hold onto your hats (aluminium foil ones included), as we delve into the six less-talked about benefits of aluminium recycling, often overshadowed by its more prominent advantages.
Innovation catalyst: Recycling serves as a dynamic driver of innovation, fuelling the relentless pursuit of more sustainable processes and cutting-edge technologies for a greener future.
Miles Prosser, the Secretary General at IAI mentioned in an AL Circle e-Magazine, "Aluminium companies are developing technologies such as automatic sorting of recycled aluminium alloys and making broadscale investments in technologies such as renewable electricity generation and electrification of thermal processes."
Companies, such as Hormesa, a leader in advancing sustainability through their cutting-edge technologies, are at the forefront of this transformative journey. During a discussion with AL Circle, Julio Quintero, Business Development Manager, Hormesa, underscored the pivotal role of technology and innovation in aluminium recycling. He highlighted advancements in sorting technologies that facilitate efficient aluminium separation from other materials and scrap treatment systems, which, when combined with high melting efficiency furnaces, boost aluminium recoveries (achieving up to 98 per cent melting efficiency).
He said, "Technology plays a crucial role in aluminium recycling. Digital platforms can optimise recycling supply chains, ensuring seamless coordination and traceability".
More jobs and research areas: The aluminium recycling industry creates jobs, boosting local economies and fostering sustainability. It also opens up new research gates, advancing the existing processes.
In an AL Circle's Recycling e-Magazine, Dr. Ashok Nandi, the President of the International Bauxite, Alumina and Aluminium Society (IBAAS) talked about the National Non-Ferrous Metal Scrap Recycling Framework, where he mentioned how aluminium recycling plays a crucial role in creating new jobs.
He said, "The objective of this policy is to promote a formal and well-organised recycling ecosystem and work towards economic wealth creation, job creation and increased contribution to GDP through metal recycling."
In an interview with Miki Lagers, Sales Manager, Gouda Refractories, said, "Through continuous investment in research and development, we aim to find innovative solutions that benefit both our customers and the environment."
Fostering collaborations: In the world of sustainability and innovation, aluminium recycling is more than just a means to reduce waste; it's a catalyst for forging powerful collaborations across diverse industries. These partnerships not only champion sustainable practices but also preserve precious resources.
Emre Şahin, the Obal Aluminum Factory Manager, shared a compelling testament to this synergy in a feature in an AL Circle e-Magazine. Şahin stated that their collaboration with Alustar has enabled the company to increase the use of recycled content in producing aluminium billets.
He said, "In the next four months, we aim to reach even 70 per cent of recycled content and are very optimistic about reaching our goal. We have a good positioning and reliable partners, such as TOMRA. Their latest aluminium sorting machine X-TRACT™ is one of the most important equipment in our facility."
Faster and more efficient production: By recycling aluminium, we save a staggering 95 per cent of the energy required for primary production. It's like switching to an ultra-efficient light bulb for the planet. Moreover, as awareness grows, more people are embracing aluminium recycling, driving up recycling rates and promoting sustainability.
David Van Heuverswyn, the Director of Every Can Counts shared his thoughts in an AL Circle  interview, "The life cycle of aluminium can, from collection to its return to store shelves, can take as little as 60 days. During this time, cans are collected, transported to a recycling centre, melted down, and reformed into new cans, saving up to 95 per cent energy compared to producing new ones from raw materials."
Gateway to sustainable supply chains: In the intricate web of modern industry, recycling aluminium is more than just an eco-conscious choice; it serves as a gateway to forging sustainable supply chains and delivering affordability to consumers. This transformative potential comes to life through the remarkable journey of the Polish Aluminium Association, shared in an AL Circle e-Magazine.
Andrzej Michalski-Stępkowski, the President of the Polish Aluminium Association, told AL Circle, "No primary aluminium is produced in Poland. However, our country is one of the largest European producers of secondary aluminium made from recycled aluminium scrap. This material is then used for the further production of particular products. They make their way, among others, to the transportation, automotive, construction, energy and many other industries."
Igniting social responsibility: Aluminium is finite, and mining bauxite is resource-intensive. Recycling preserves natural resources and curtails the need for more mining. It reduces the need for energy-intensive smelting, which can release harmful pollutants.
Aluminium is a 1.5 trillion dollar industry and whether we realise it or not, we're all connected to it in some way. From the end user's perspective, it's a reminder that our choices matter in shaping a sustainable future.
When companies commit to recycling aluminium, they signal their dedication to a greener and more eco-conscious tomorrow, a commitment that resonates with consumers. Organisations like Aluminium Stewardship Initiative (ASI) and CarbonChain emerged to remind our environmental and social responsibilities and reward the best sustainability practices.
Dr Subodh Das, the CEO of Phinix LLC said in an AL Circle interview, "It was claimed in the Paris Agreement that circular economy strategies could reduce emissions by 40 per cent in 2050 in the production process of key materials. Hence, the growing focus on aluminium recycling is a part of the greater goals of the circular economy and reducing global warming."
He added, "We are witnessing a paradigm shift towards the concept of "Reduce, Reuse, Remanufacture and   Recycle" as a strategy for building a low energy, low carbon, and low environmental impact future."
Final note: In this interconnected world, every user becomes a stakeholder in the quest for a more responsible and sustainable aluminium industry. Picture this. You're sipping your favourite beverage from an aluminium can. Now, imagine that same can, not as a fleeting delight but as an eternal symbol of sustainability. That's the magic of aluminium recycling – it transforms everyday items into eco-friendly marvels.
Like this Article? Subscribe to Our Feed!